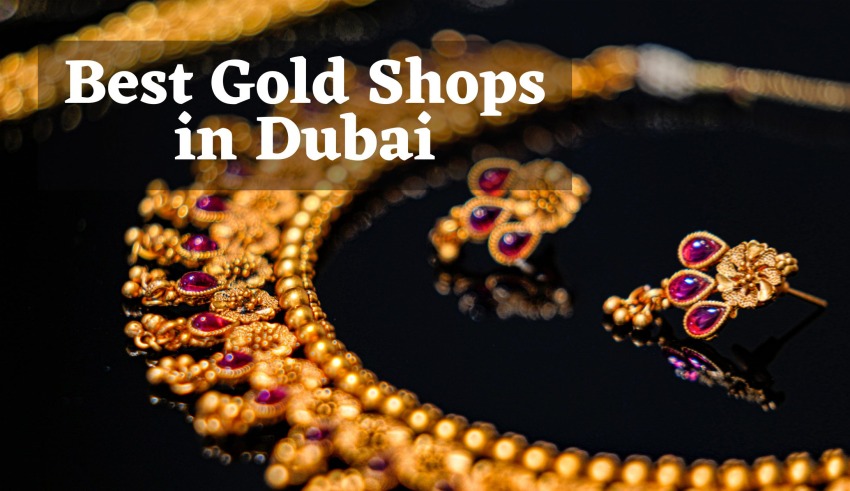 Dubai is known for numerous things, chief among those being gold. Known as the city of gold, Dubai is a paradise for gold shoppers who throng the markets where this shimmering metal is available in abundance at competitive prices best gold shops in Dubai.
Dubai showcases a multitude of gold shops that offer authentic, high-quality gold jewellery true to global standards. There are magnificent malls and retail stores in the city where you can explore a huge selection of gold jewellery to your heart's content.
The most famous gold market in Dubai is Deira Gold Souk, a traditional market that offers hundreds of stores selling primarily gold, silver, and precious stone jewellery. Besides these, there are several big brand gold shops from across the world that attract a large crowd of gold buyers and shoppers for gold jewellery Dubai. Below we discuss the top ten jewellery shops in Dubai.
Here is the list of the 10 best gold shops in Dubai.
Damas Jewellery is one of the largest and most reputable gold and jewellery store chain in Dubai and a leading jeweller in the Middle East. It is one of the best gold shop in Dubai. Their foundation dates back to 1907 and is admired for their craftsmanship expertise in gold jewellery and known for their high standards in quality.
They are mostly known for jewellery with an evergreen allure that can be worn for any occasion, such as rings, bangles, bracelets, earrings, pendants and necklaces.
The store offers a wide range of jewellery places that range from timeless classic jewellery to modern and trendy pieces. Besides, they house all the famous international brands like Djula, Fope, Leo Pizzo, Faberge, and Roberto Coin and unique in-house Damas jewellery pieces and luxury watches.
What is special about Damas Jewellery Dubai?
Incorporate nine varieties of gemstones in their gold jewellery:  diamond, ruby, blue sapphire, yellow sapphire, emerald, garnet, pearl, topaz, and cat's eye 

Both lightweight and stunning heavyweight pieces are available

in 200 stores across the GCC, which makes Damas easily accessible

Wide portfolio of luxury brands with in-store brands

Provide amazing bonus gifts and promotional offers
Location:
Jumeirah Lake Towers

Level 1, Reef Mall, Al Jazira Street، Deira Gold Souk
---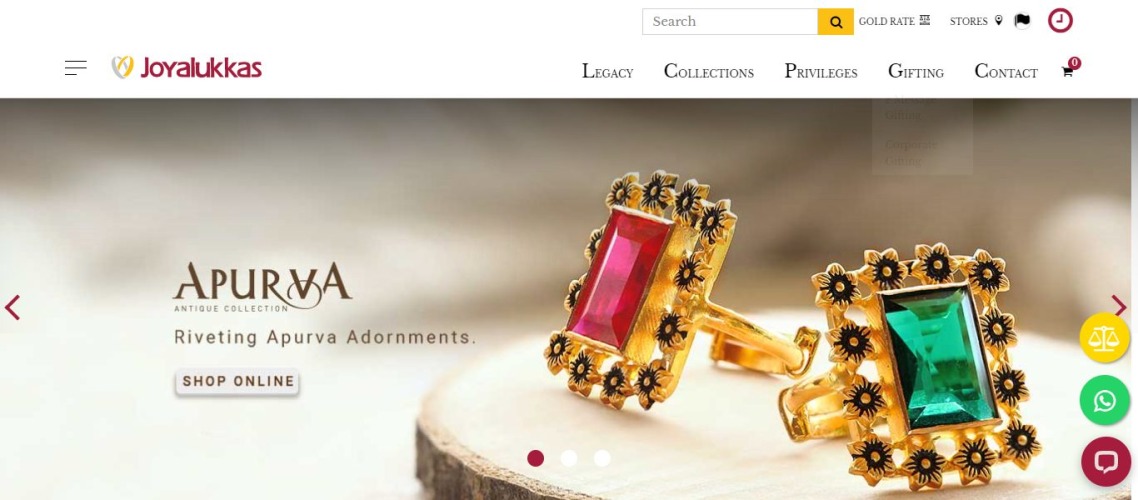 Joyalukkas is an established destination for gold shoppers in Dubai. It is one of the best gold shop in Dubai, which is well renowned for its variety of designs available and commitment to quality.
They have several stores in the Gold Souk market in Dubai as well as in many shopping malls. They are mainly known for their bold and unique designs that suit everyone's taste in classical, trendy, or modern jewellery styles.
Joyalukkas houses extensive collections of gold jewellery and diamond and platinum accessories as well. You can find a wide range of beautifully crafted gold chains, pendants, rings, bangles, and renowned branded gold jewellery from the world's best brands like Veda, Zenina, Pride and Eleganza. It is one of the best best gold shop in dubai
The store also offers an elegant range of bridal jewellery, from understated aesthetics to grand ornamental pieces. 
What is special about Joyalukkas Dubai?
World-class jewellery designs that stand apart 

Elegant pieces from the top global brands like Eleganza, Pride, Veda and Zenina are available.

A special collection of 3D diamonds

They offer Joyalukkas gift cards which are both physical gift cards as well as e-cards, and loyalty points that can be redeemed for different offers

Joyalukkas online gold scheme available for investment 
Location:
Main Centre, Gold Centre, Deira

Branch 1, Gold Centre, Deira

Branch 2, Gold Centre, Deira

240, Damascus Street

Lulu Al Barsha, Level 2

Lulu Hypermarket, Qusais

Al Fahidi Street Bur Dubai
---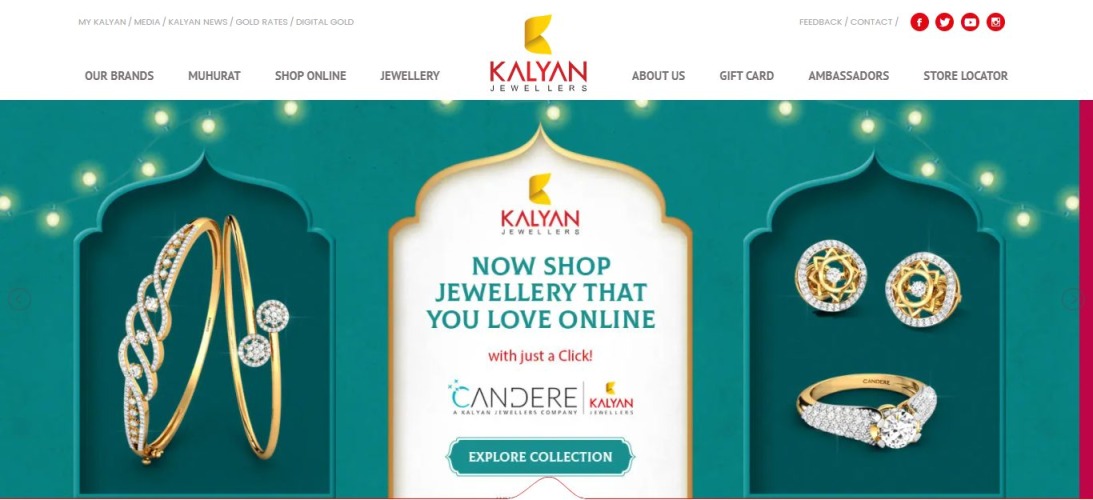 Kalyan Jewellers Dubai is among the most prominent jewellery showrooms in the Middle East one of the popular jewellery shops in Dubai.
The store chain offers a designer collection of beautifully handcrafted antique jewellery, heritage jewellery, and unparalleled gold and diamond jewellery such as chains, nose rings, necklaces, bracelets, bangles and much more.
The Kalyan Jewellers UAE stores deal not only with authentic gold jewellery but also white gold, diamond, silver, platinum, pearls, and a variety of gemstones. In addition, naturally designed diamonds and magnificent uncut diamonds are also available.
Why is special about Kalyan Jewellers Dubai?
Among the best gold shops in Dubai 

Appealing and class apart jewellery available

lifetime gold exchange policy available

Jewellery with  C.G.L certification 

30 days return policy offered on gold and other jewellery, which makes gold shopping easy and convenient
Location
Shop No: 5, Al Sherouq Building, Al Karama, Opp Karama Park, Dubai 

Shop No: 3 & 4, Mohd Aqil, Abdul Razzak Zarooni & Brothers Building, Al Fahidi Street

Meena Bazaar, Bur Dubai

Near Main Gate, Global Village

Lulu Hyper Market, Al Qusais

Lulu Hyper Market, Al Nahda
---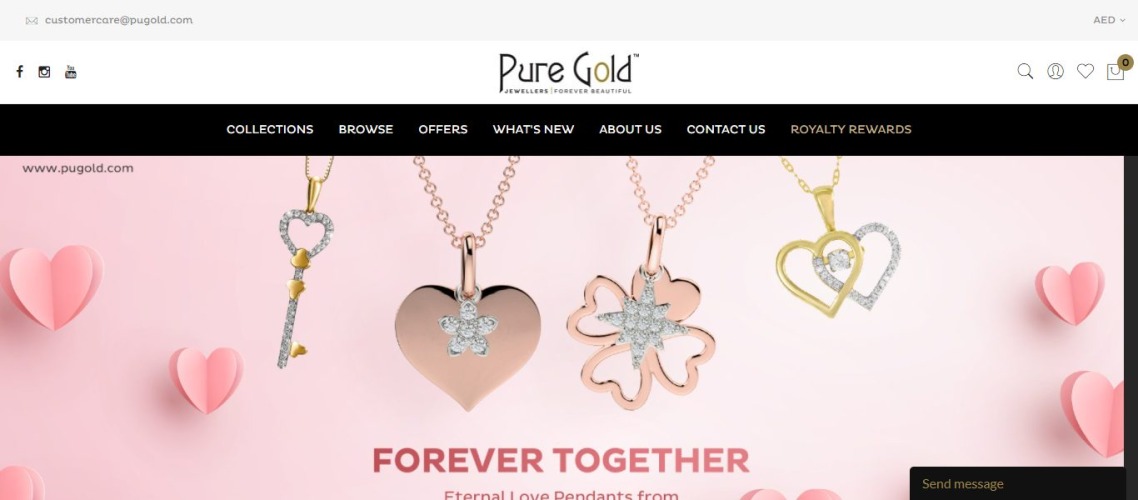 True to their name, Pure Gold Jewellers are reputed for their top quality and beautiful gold jewellery designs. The store was started in 1989 and has been providing unparalleled gold jewellery and excellent customer service ever since. As a result, it has its own charisma in the line of jewellery stores in Dubai.
The store offers an exquisite range of jewellery collections such as Pure Sparkle, Nakshatra, Eternity, Illusion, Bridal, Napoli, and Miracle. It also offers a Swiss luxury designer watch collection.
Not only gold, but the store also provides an exclusive range of diamond jewellery with graceful pendants, earrings, rings, and necklaces. Its unique jewellery collection makes it the best gold shop in Dubai
What is special about Pure Gold Jewellers?
Has a strong presence in the United Arab Emirates with 120 stores that make it easily accessible

Known for pure gold jewellery, especially the 22-carat ethnic jewellery in gold

Custom jewellery available on order

The jewellery store tops the list of 'Best Customer Service,' 

Good quality gold whose purity is acknowledged worldwide
Location
40th floor, Platinum Tower, Cluster I-2, JLT, Dubai

Wafi Mall, Garhoud
---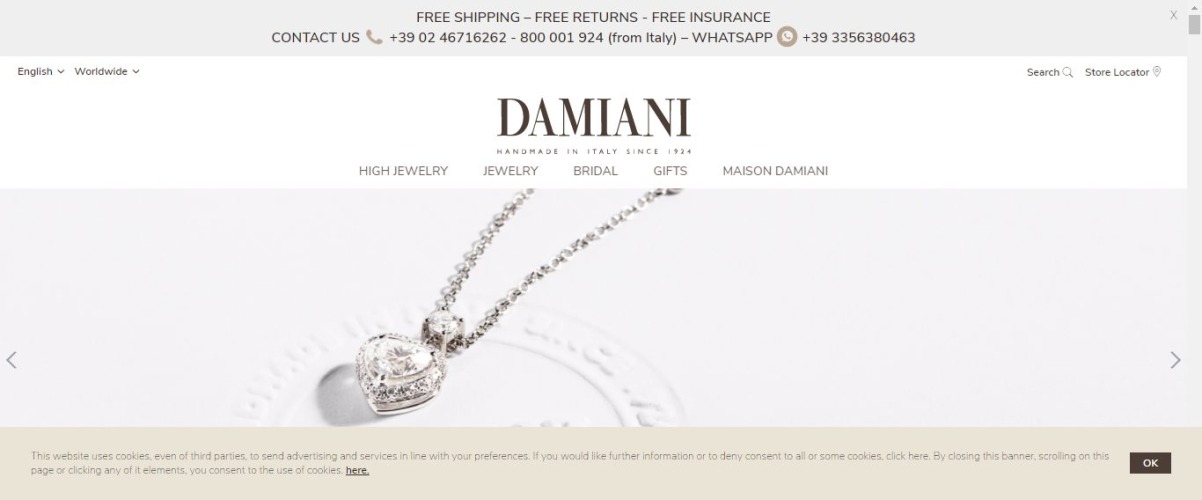 For all those looking for luxury gold jewellery that is a feast for the eyes, Damiani is the best gold shop in Dubai.
At Damiani, an exquisite range of jewels and accessories is available for both men and women under various collections. Damiani also provides an elegant collection of gold watches at its jewellery stores.
The Belle Epoque collection features high-end geometrically cut diamond jewellery. The Animalia collection features beautiful gold and coloured diamond jewellery in the shape of dragonflies, spiders and butterflies.
The absolute stars of this Damiani collection are creative embellishments. They also feature a unique and magnificent bridal collection with customized ornaments and embellishments.
What is special about Damiani Jewellers?
Noteworthy Italian and handmade craftsmanship

Exclusive jewellery  collection by celebrities like Brad Pitt, Jennifer Aniston, Isabella Rossellini, and Gwyneth Paltrow

100% guarantee for the purity and authenticity of all the jewellery  designs

Customers can get free insurance on their jewellery with  Damiani jewellery 

Customization of jewellery as per the customers' wishes is available at no extra cost
Location
Damiani Boutique Dubai, Dubai Mall

Damiani Corner, Dubai International Airport
---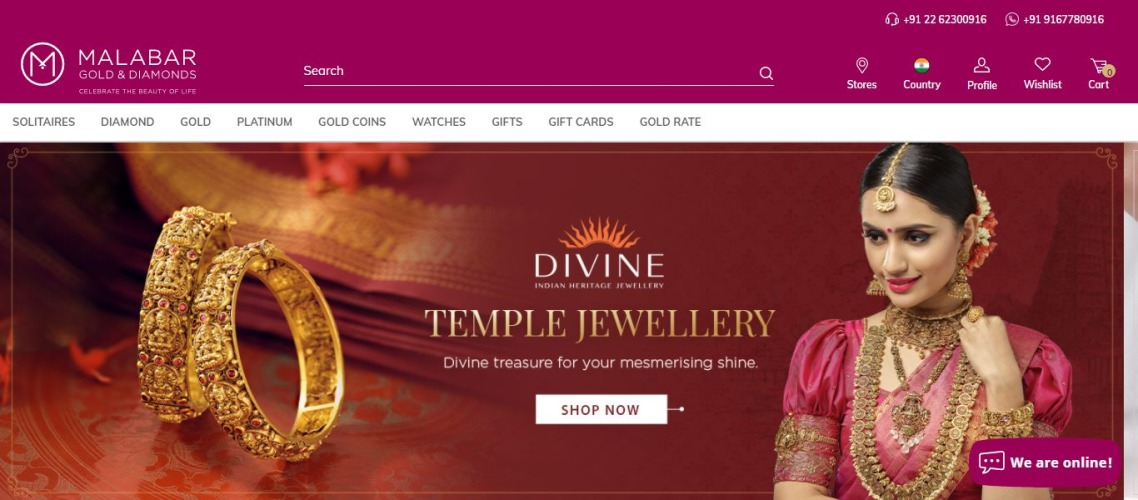 Malabar Gold and Diamonds in Dubai is another popular name on the list of reputed gold jewellery shops. Here you can discover a stunning collection of gold jewellery with ornaments for every occasion.
A wide variety of specially curated jewellery items, solitaire diamonds, gold gift items, and gold coins distinguish them from other gold outlets that sell gold jewellery in Dubai.
You can even find luxury gold and diamond-studded watches from Tag Heuer, Rado, Calvin Klein, Seiko, Tissot and Fossil here. You can check out the exquisite gold collection.
What is special about Malabar Gold and Diamonds?
B.I.S Hallmarked gold and P.G.I certified platinum jewellery available

Certified diamonds by G.I.A (Gemmological Institute of America), A.G.S (American Gem Society), I.G.I (International Gemmological Institute), and H.R.D (Hoge Raad Voor Diamont) available

You can get 100 % legal diamonds at Malabar Gold and Diamonds under the KPCS or Kimberley Process Certification Scheme 

All gold and diamond jewellery is exchangeable within a period of 15 days without any price cuts

You can get insurance on your solitaire jewellery bought from this brand against any form of accident, damage, theft, or loss.
Location
Grand Hypermarket, Jebel Ali Industrial Area, Dubai

Meena Bazar Cosmos Lane,  Meena Bazar, Dubai

Malabar Gold & Diamonds, Shop 1, Lulu Hypermarket, Qusais

Malabar Gold & Diamonds, Shop 2, Lulu Hypermarket, Qusais

M. Gold & Diamonds, Block C, Sheikh Colony, Near Airport Free Zone Metro Station
---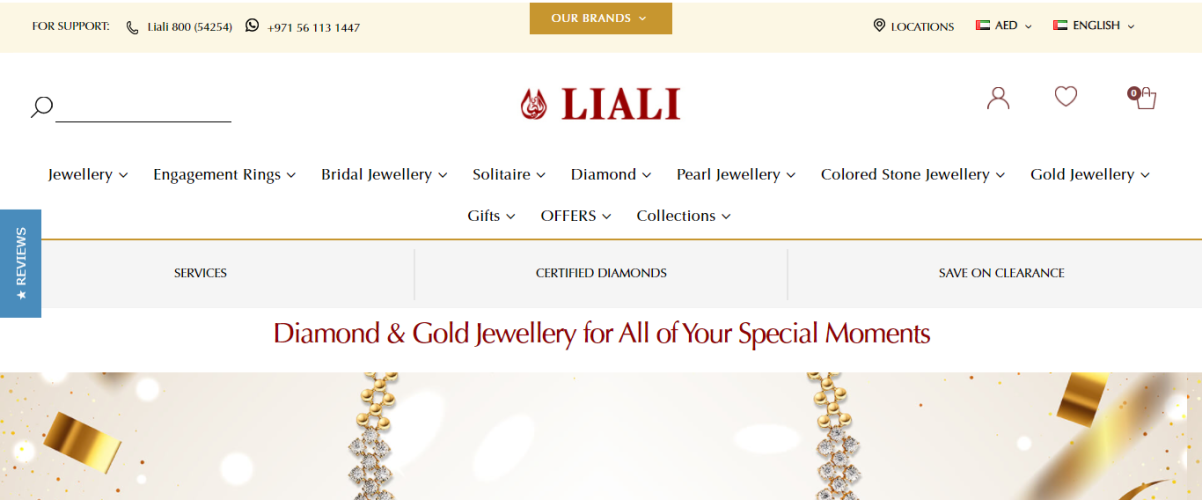 An outstanding brand to reckon in Dubai is Liali gold jewellers, with their outstanding jewellery collection. There is luxurious gold and diamond jewellery with striking gold and diamond offers and sales at these jewellery stores.
The store offers magnificent jewellery pieces, bridal jewellery, engagement rings, diamond and pearl jewellery and coloured stone jewellery besides beautifully crafted gold pieces.
You can also find gold gift items for all occasions and personalized gold jewellery in Dubai.Discover the beauty of gold jewellery at Liali.
What is special about Liali Jewellery?
An impressive collection of gold and diamond jewellery

Certified jewellery for all pieces

Easy payment plan with 0% interest instalment plan

Lifetime free repair and maintenance

Hassle-free exchange policy for all jewellery items

Best possible price for all products
Location
LIALI Jewellery

– Dubai Mall
---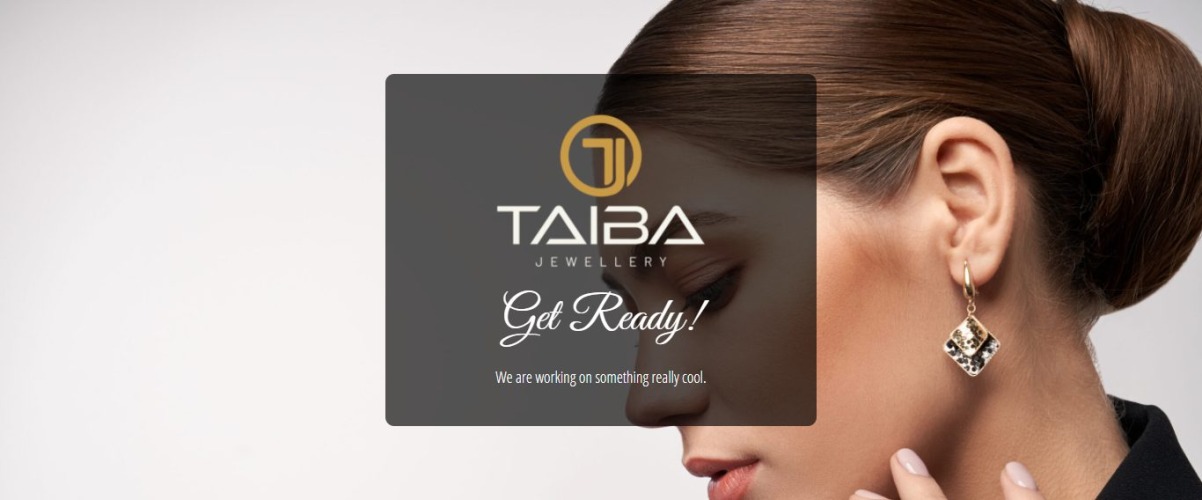 Jewellery Shops in Dubai is a well-known gold shop in Dubai located in Deira. Taiba Jewellery came into existence in 1998 in the famous Dubai Gold Souk market.
Their unique designs have won the hearts of locals and visitors from abroad alike over the years. The brand has been recognized for creating the world's heaviest 18 karat gold ring and also has been awarded by the prestigious Guinness Book of World Records.
Their bespoke gold pieces include beautifully handcrafted gold bracelets, rings, bangles, bracelets, necklaces, embellished belts and kaafs.
Taiba founders have a rich heritage and more than 40 years of jewellery crafting experience in the Middle East. For those who want to take jewellery to the next level, they also offer stunning crowns, designer belts, and even gold clothing and accessories.
What is special about Taiba Jewellery?
First-class craftsmanship and excellent designs of jewellery

Ethically sourced jewels & material from their two manufacturing units in Dubai

Certified genuine gold used in all products

Customized 18k and 21k gold sets for all occasions can be made to order
Location 
M – Gold Center, Gold Souk, Dubai
---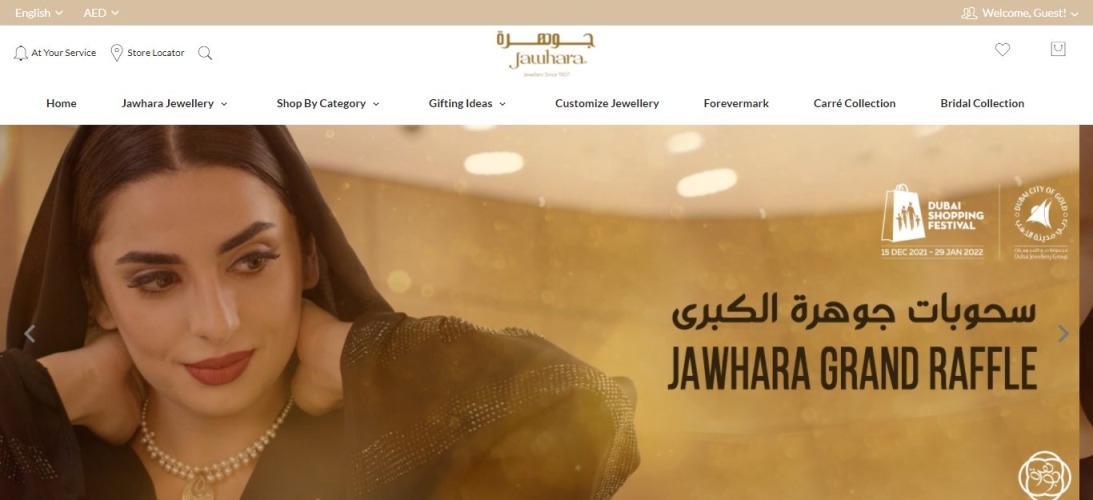 This is another reputed and well-known jewellery brand in Dubai whose traditional fourth jewellery business has its roots that date back to 1907.
Jawhara is a renowned Fashion destination for precious metals and diamonds, and its store is located in the heart of Dubai's historic jewellery district. With its innovative jewellery design and expert craftsmanship, Jawhara has grown into a global design house with a worldwide reputation
Jawhara brand incorporates heritage and tradition in its every jewellery creation, from the highly innovative, novel designs for the modern woman to the regular traditional designs.
The store presents all the collections that are designed, created and developed by a team of skilled in-house and international jewellers known for their experience and exceptional craftsmanship. The brand also presents Carre, a square diamond jewellery collection with earrings, necklaces, and rings of baguette diamonds.
What is special about Jawhara Jewellery? 
Trendy, unconventional and stylish jewellery that complements the youth

Lifetime warranty for any manufacturing flaws

Free polishing service once a year on jewellery purchased from the store

Customized jewellery available

Forever Mark diamond jewellery is available

Certifications by SGL, IDL, and GSI are available
Location
Jawhara Jewellery Bldg., 28 Street, Gold Souk, Al Daghaya, Dubai 

Dubai Mall, Financial Centre Road, Dubai

Shop No. 4, Floor 1, Mercato Mall, Dubai

Magrudy,  62, Jumairah Street, Dubai
---
ARY jewellers have a long and traditional background of gold retail and Maison de ARY jewellers in Dubai. They offer an irresistible, glittering product line that includes gold and diamond jewellery,  18 kt gold filigree and enamel, silver and pearl jewellery, coloured precious stones, designer StellMaris watches, gold bars and coins.
ARY jewellers are known worldwide for their innovative designs, pioneering craftsmanship, and boutique gift items in gold and diamonds. You can browse through their collections .
ARY jewellery has produced a collection of customized items and rare jewels influenced by the prestigious Mughal period.
 The jewellery store has also presented a unique Ottoman jewellery collection inspired by the designs created and produced by Sultan Suleyman of the Ottoman Empire in 1526. It includes beautiful pieces of jewellery in 8kt gold, silver, rose-cut diamonds, and other precious stones like emeralds, rubies, and sapphires. 
What is special about ARY Jewellery?
A rich collection of jewellery to fit every budget and design

Diverse product line

Beautiful, stylish, traditional jewellery in eclectic designs

100% certified jewellery

Exchange and buyback facility is available
Location
Summing Up
Dubai is indeed a paradise for gold shoppers and has thousands of gold and gold jewellery shops present that sell authentic, certified and branded jewellery as well. Almost all top global jewellery brands have their stores in this gold city of the Middle East.
Big shot diamond brands like Rosella, Cartier, Tiffany's and DeBeers also have their luxury and designer jewellery showrooms in Dubai. Here you can find the most precious jewellery pieces that can be treasured forever.
For all those interested in shopping for gold in Dubai, a little bit of background research will be preferred. With thousands of gold shops and designer showrooms at your disposal, purchasing the right product from the right shop becomes a challenge.
While the above-mentioned top ten gold jewellery shops thrive in the Dubai gold scene, you can also explore the Dubai Gold Souk, where you can find intricate Arabian and foreign jewellery designs.