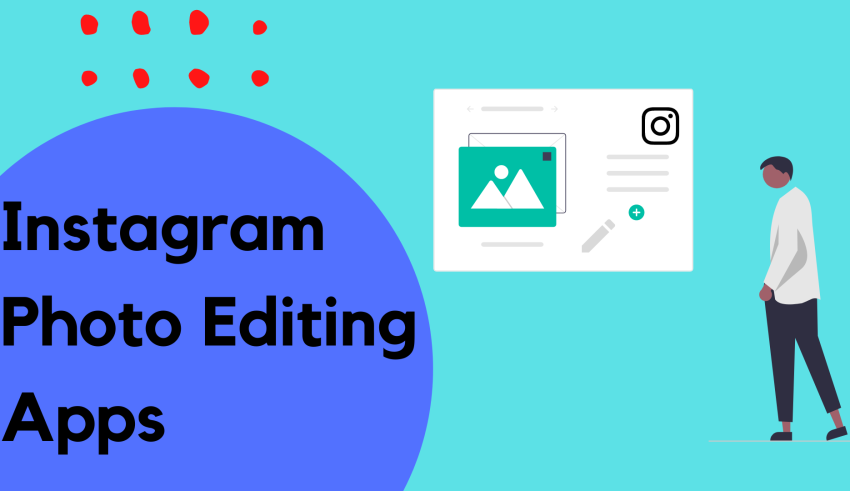 If you are looking forward to making your Insta game strong, then make sure that you add great photo editing apps to your Instagram marketing toolbox. Photo editing apps are one of the most important and effective solutions for anyone looking to grow on the platform. There are thousands of such tools available out there in the market.
This is the reason why a quick search on Google for "Instagram Photo Editing Apps" will land you with hundreds of results. Out of those hundreds of options, there are very few of them that are actually good to use and trustworthy.
Hence, the problem still remains to find the best ones from the not-so-good ones. This might be the reason that you are here reading this article in the hope to find the right app for your Instagram. Well, in this article, we'll be discussing the best apps that will help you make your posts stand out on the platform and will help you grow. Read on.
Instagram, with more than 1 billion monthly active users, is the biggest and one of the most popular photo-sharing social networking platforms in the world. It is one of the most influential social networking platforms worldwide and hence, almost all well-renowned celebrities, artists, influencers, and big names in the world keep posting photos on the platform. It is no surprise that photographers from all levels of experience trust and use the platform frequently.
What is Instagram Photo Editing App?
These are apps that can be used on androids, iOS, PCs, and other devices using which you can edit your photos ready to be posted on Instagram with just a few taps. There are so many edits with which you can create beautiful photos to make your Instagram feed look amazing and encourage people to engage more.
With the help of these apps, you can do a lot of edits such as enhance colors, crop images, rotate, adjust the level of clarity, highlight, add text, and many more in a photo before actually sharing them on Instagram. Editing photos is a very important process to grow on Instagram and next, we will be discussing the best Instagram photo editing apps. Let's start!
Best Instagram Photo Editing Apps:
VSCO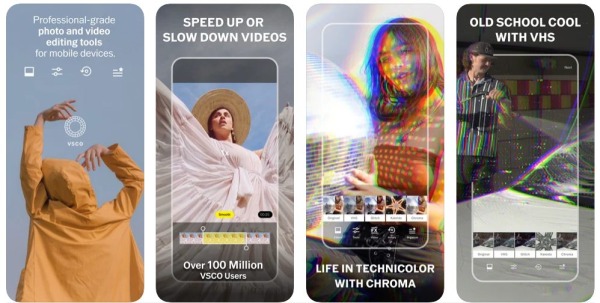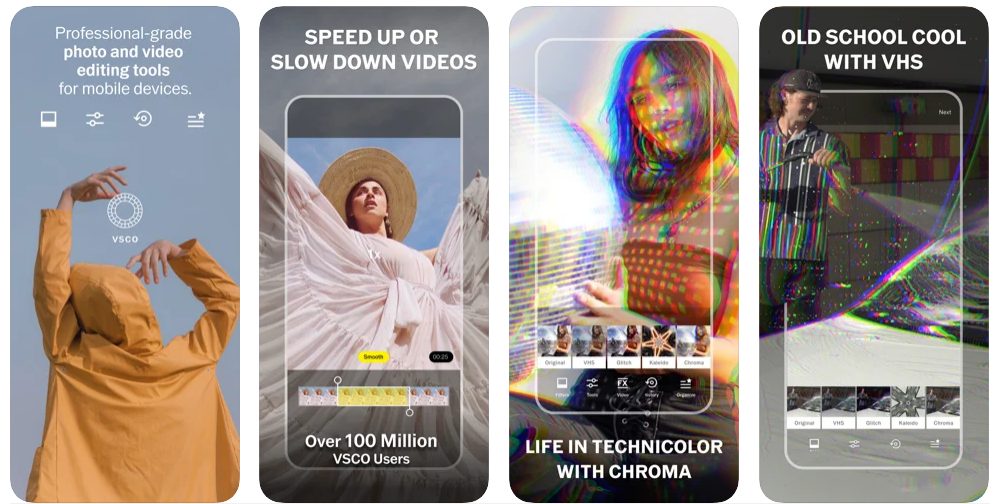 The first entry on our list is VSCO, formerly known as VSCO Cam, which is one of our favorites on the list when it comes to photo editors out there in the market. You can use this app on both iOS and Android devices.
Joel Flory and Greg Lutze, the creators of the app made sure that their users get the most out of the app. Hence, the app has a very strong support page to help users with any problems or queries. The best part of this app is that it has a strong community of creators and photo editing enthusiasts. You can visit the VSCO community to interact with other creators, discover new ideas, and share your edits.
The app offers its users a 7-day free trial after which they need to upgrade to its member plans. The free version comes with basic VSCO presets, standard tools, access to VSCO community spotlights and inspiring content, and a few other limited features.
While the membership plan comes with many advanced tools and exclusive features. The advanced tools and features include 200+ presets, exclusive HSL & borders tool, video editing tools, montage, weekly challenges, bonus content, and more. The VSCO membership comes in both monthly and annual subscriptions.
---
Canva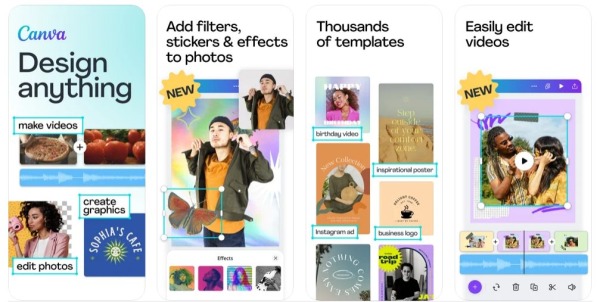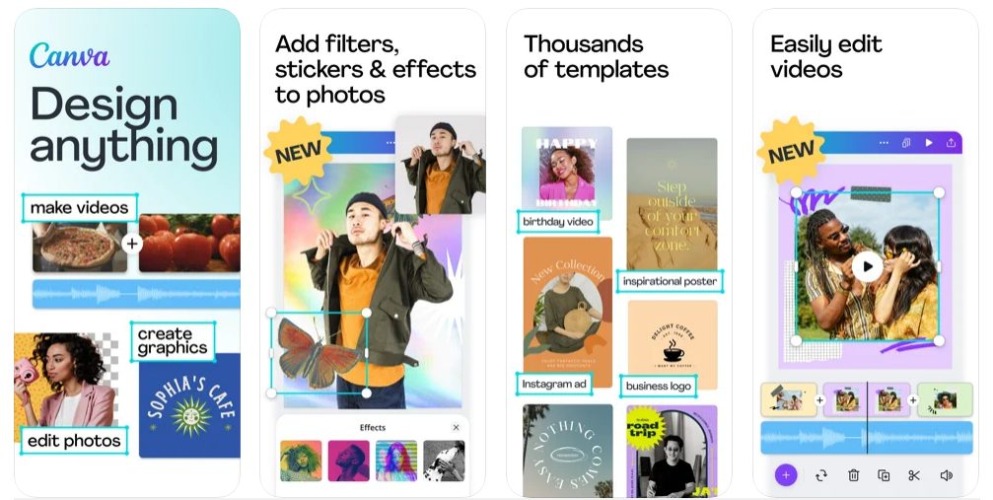 Next on our list is one of the most popular photo editing apps out there in the market, Canva. Canva, an Australian graphic design platform, is an all-in-one solution that allows users to create graphics, presentations, posters, documents, and many other different types of visual content.
If you are a newbie in this whole photo editing thing, then Canva is the place for you as it is the most straightforward design software where you'll easily be able to design anything in a snap.
Be it your Instagram Story, Highlight Cover, or Post, you can edit and create captivating pictures for all of them using Canva.
The app has a free version for all its users which includes a lot of effective tools and features comparatively more than other apps.
Apart from the free version, the app also has a Pro version, which is paid and comes with a lot of advanced tools and features. The best part is that you can request a demo of the Pro plan before actually purchasing it.
---
Pixlr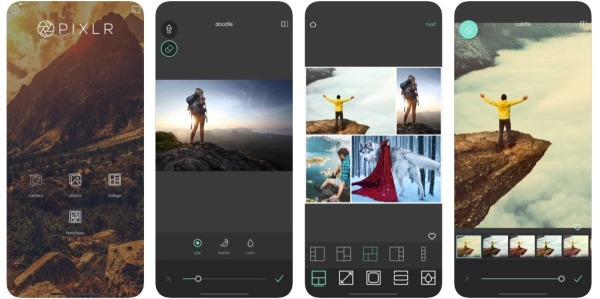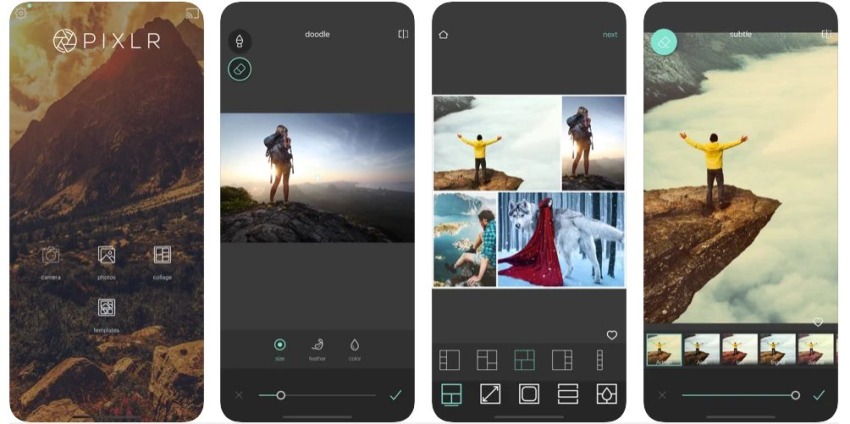 Pixlr is the number one cloud-based photo editing and design tool out there in the market. This app is perfect for both newbies and professional photo photographs as the app have a range of simple to advanced photo editing tools & features to offer.
Pixlr X is the quick & easy version of the app suitable for newbies. On the other hand, Pixlr E is an advanced tool app, suitable for professionals and experts. Be it your browser, on your phone, or desktop, you can easily edit and create stunning photos at Pixlr with just a few steps on all devices.
With Pixlr, you can do edits such as removing background, making collages, animations, design templates, and more. The app offers three types of subscription plans to its users, which include Free, Premium, and Creative Pack.
---
Adobe Lightroom Photo Editor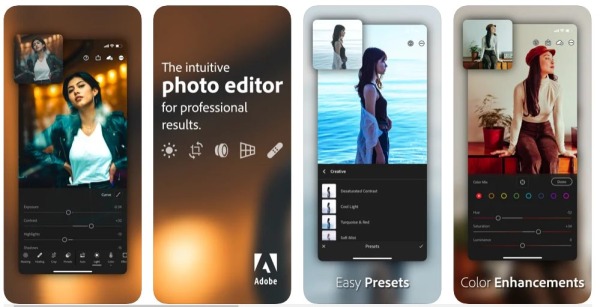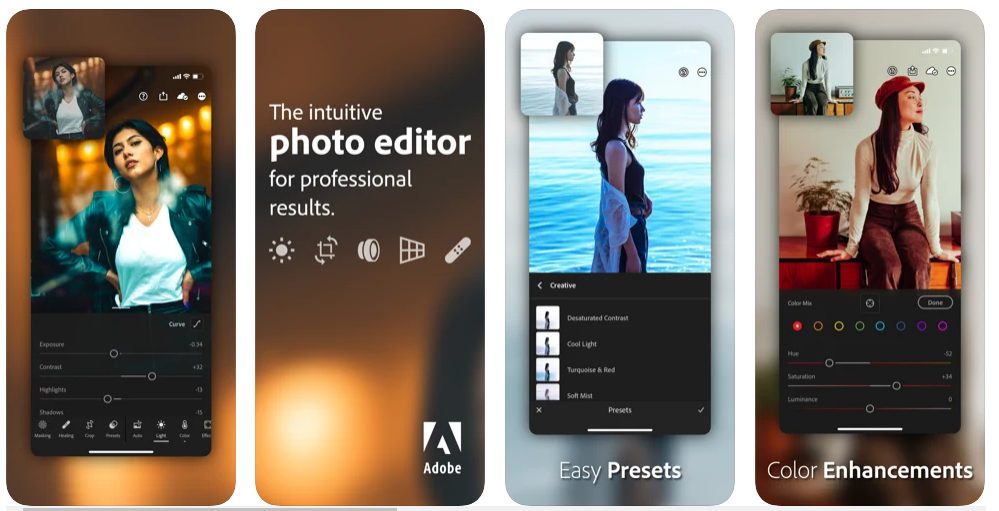 You must have heard of Adobe Lightroom before and if it's not the case, it's high time you should. It is a professional photo editing app, which you use to intelligently organize and edit photos for your Instagram. You need not worry regarding its usage as Adobe has provided some amazing and quick-to-learn photography tutorials.
You can simply follow these quick tutorials, jumpstart your learning, and turn your photos by editing them into a masterpiece. Not only do you get tutorials but the app also offers an easy-to-use interface & simple slider, filters, presets, etc. In addition, you can take your editing game to the next level by purchasing the Adobe Creative Cloud Photography plan.
In this plan, you'll get the perfect mix of Adobe Photoshop Lightroom and Photoshop, with which you'll be able to make whatever you can imagine a reality. If you don't want to go for the paid plans you can always use the free version available. Adobe Lightroom is available both on the play store and the apple store.
---
Snapseed
If you are tired of the features available in basic photo editing apps and are not habituated to the complexities of professional photo editing software, then look no further. Snapspeed is one of the best photo editing apps that you can use on a daily basis to post great content on your Instagram.
As the app is by none other than Google, it is no surprise that it is one of the most reliable apps out there in the market. You can rely on this app to enhance your photos and apply digital filters. You can use Snapseed on both iOS and Android devices.
---
PicsArt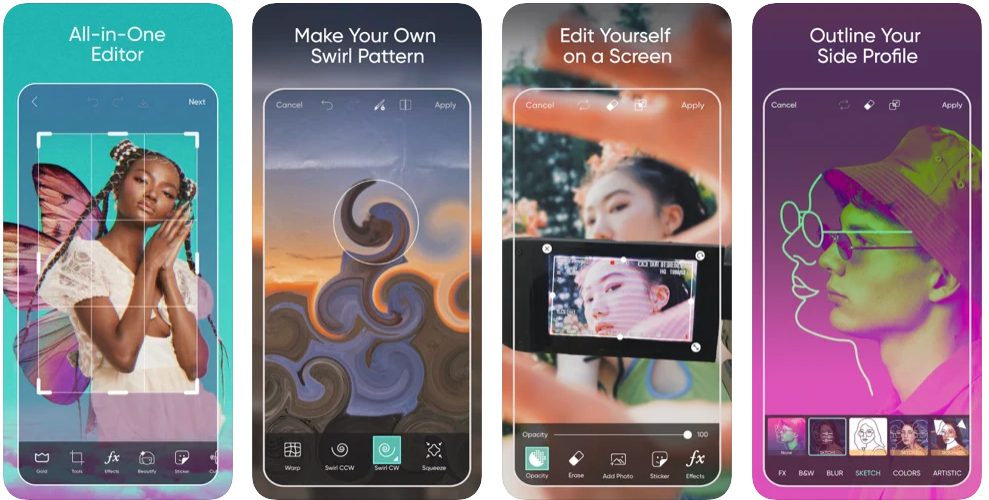 If you liked our above entries like Snapspeed, Pixlr, Adobe, etc., then you'll definitely like this app too. PicsArt is not only an all-in-one photo and video editing application but also a social creative community of creators. It is a professional app for editing photos for your Instagram and, you don't require any prior expertise or knowledge to use it.
It is because unlike other complex photo editing apps out there, PicsArt has a set of easy-to-use photo and video editing tools and templates. We are sure that by using the app you'll be able to edit and create content especially, photos, scroll-stoppingly good. The best part is that you can download the app from all the major places, which include the Apple store, the Play store, and the Microsoft store.
---
InstaSize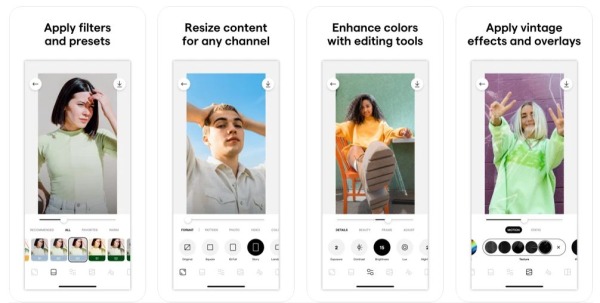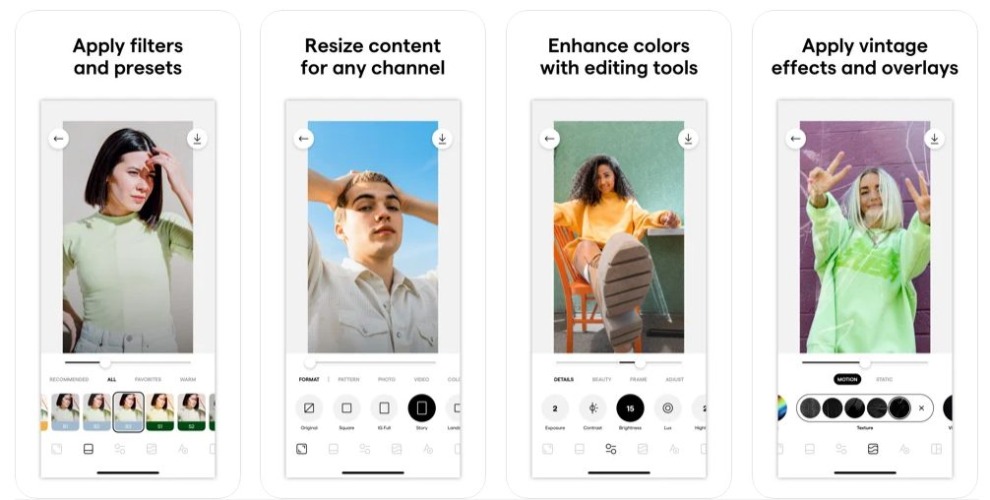 Instasize is the perfect photo and video toolkit for all social content creators all around the world. You can use rely on the app to layer, apply over 130+ filters, resize, apply vintage effects, and do other edits to your photos & videos.
The best part is that you can use the app on both Android and iOS devices. You can try the app's premium version completely free for one week. Once it's over you can buy the premium version by paying $4.99 per month and, we would say that it's definitely worth it.
---
Mextures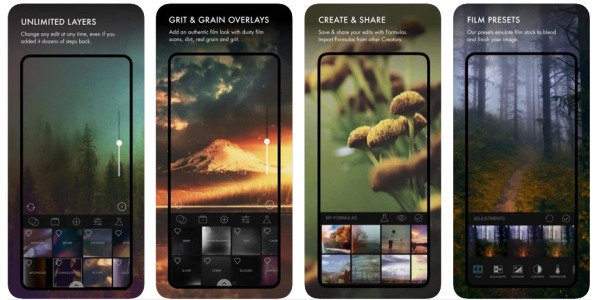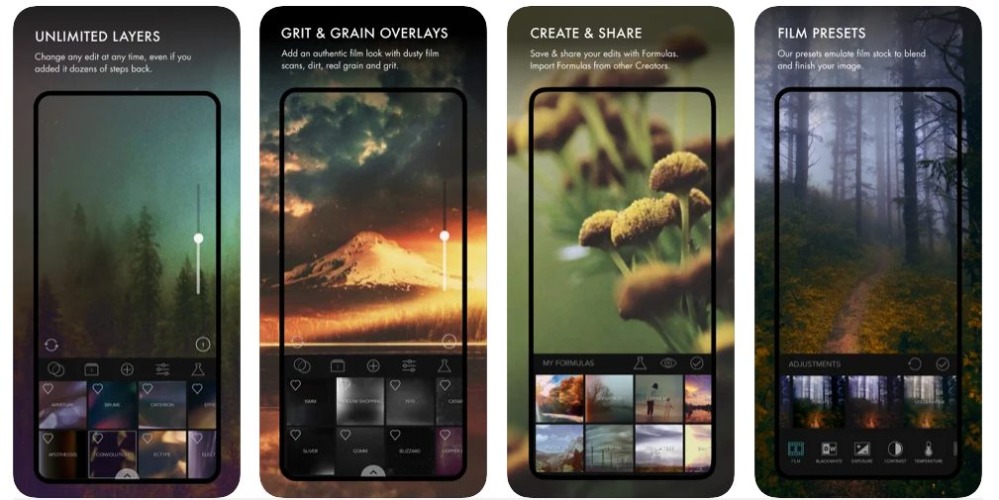 Next up, we have Mextures, another iOS exclusive app on the list. This photo editor makes complex editing easy and simple for users and this is the reason that it is loved by creators from all around the world.
Mextures offers a wide range of editing options such as Contrast, White Balance, Fade, Highlights, Shadows, Sharpness, Move, Crop, Rotate, and more.
Apart from professional-grade edits & adjustments, you also get an extensive library of textures and authentic film filters using which you can effortlessly create Insta-worthy pics.
---
Camera+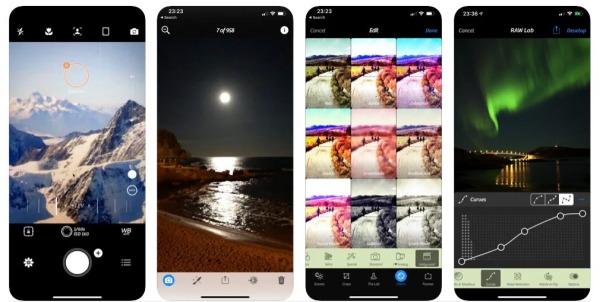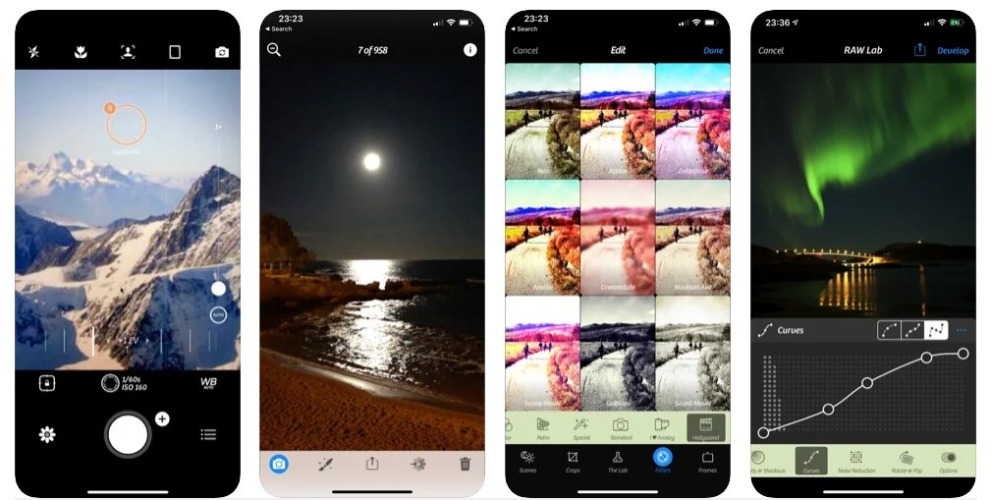 No matter you are a professional photographer or someone who has barely touched a camera, Camera+ is the ultimate photo editing app for all. Well, as one of the drawbacks, this amazing app is available only on the Apple store and can be used only on iOS devices.
This iOS-exclusive is so good that most iPhone users use it as an alternative to their standard camera app. You can make your photography strong with its basic and advanced editing tools.
With Camera+ you get powerful photo editing tools such as filters, effects, animated gifs, raw development & curves, fine-tune, and more.
---
TouchRetouch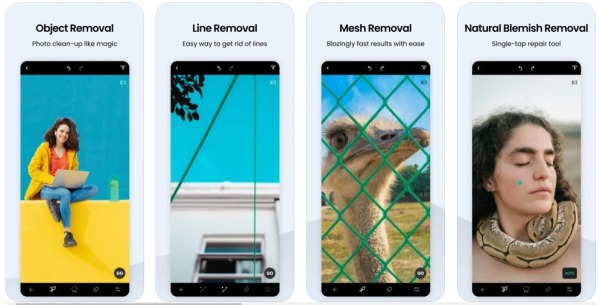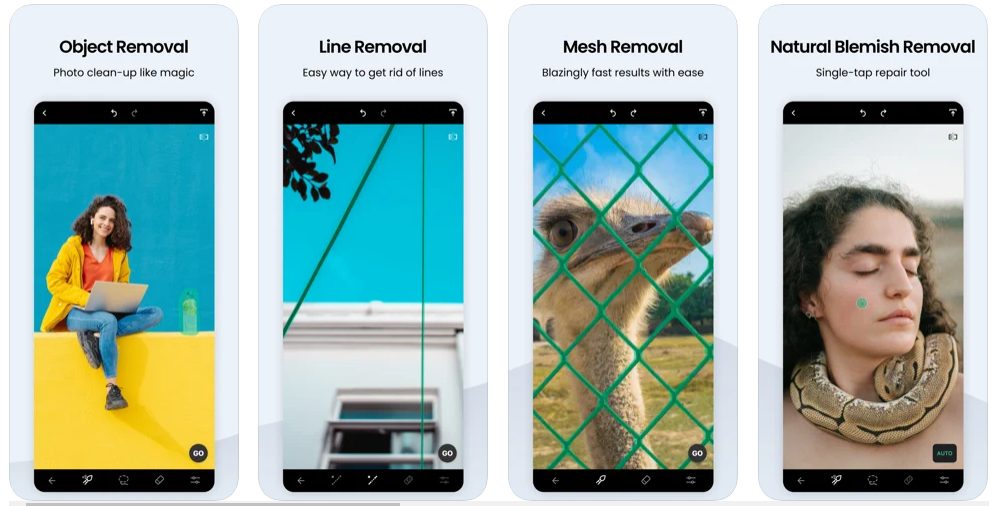 If you are tired of looking for an app to remove unwanted stuff from your photos, then your search ends here. This is the reason that TouchRetouch is one of the most effective Instagram photo editing apps.
It not only helps in saving your favorite photos from getting wasted but also gives your photos a clean look. It is a great app that will save you a lot of your valuable time. You can download this app from both Apple and Play store.
---
A Design Kit – A Color Story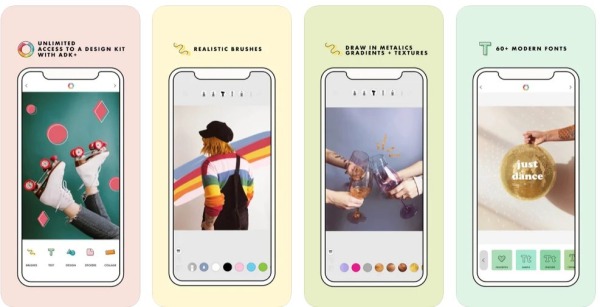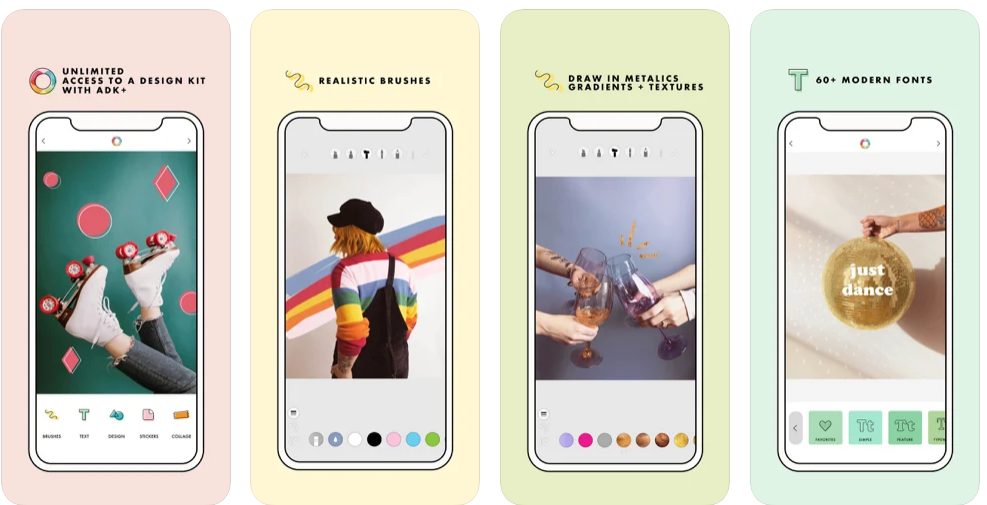 As the name suggests, A Design Kit is a photo editor using which you can easily add modern and colorful designs to your photos anywhere and everywhere.
With this app, you can enhance the quality of photos and videos by adding trend editing styles and colors that pop.
Founded in 2016, today, the app is used by millions of o people from around the globe and has also been seen on well-renowned platforms such as Forbes, Domino, TNW, Real Simple, and more.
You can use this app to create fresh, colorful photos and videos for your Instagram. Apart from these, A Color Story is available in both apple and play stores.
We would suggest you subscribe to their newsletter using mail to get access to weekly photo inspiration and the latest updates on the platform.
---
Avatan Photo Editor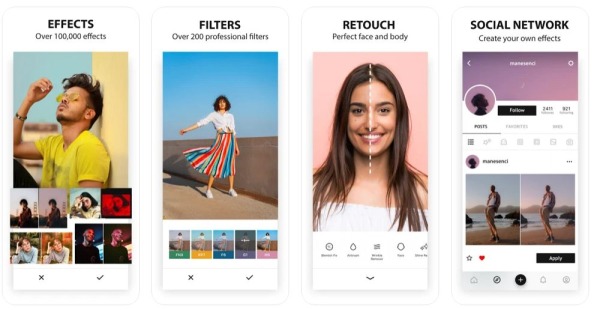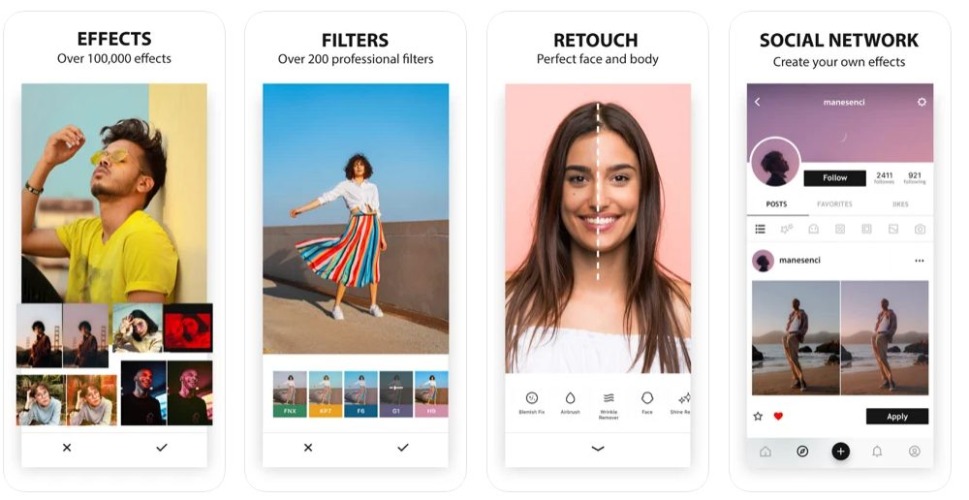 Avatan is one of the apps that allow users to edit photos while interacting with each other. Users get to interact using their own processing elements.
This is the reason Avatan Photo Editor is also called a social photo editor. At Avatan, you get 100,000+ effects, 10,000+ filters, retouch and use various resources while editing a pic.
You can add and use resources such as stickers, textures, frames, and backgrounds. The app is available on both Apple and the Play store.
---
AppForType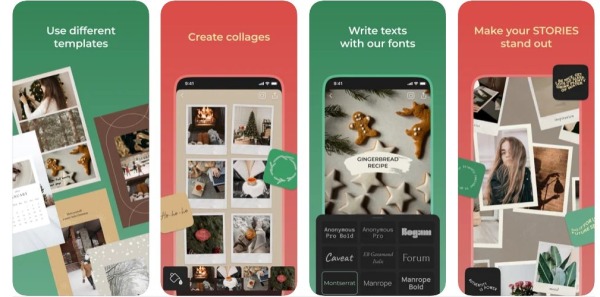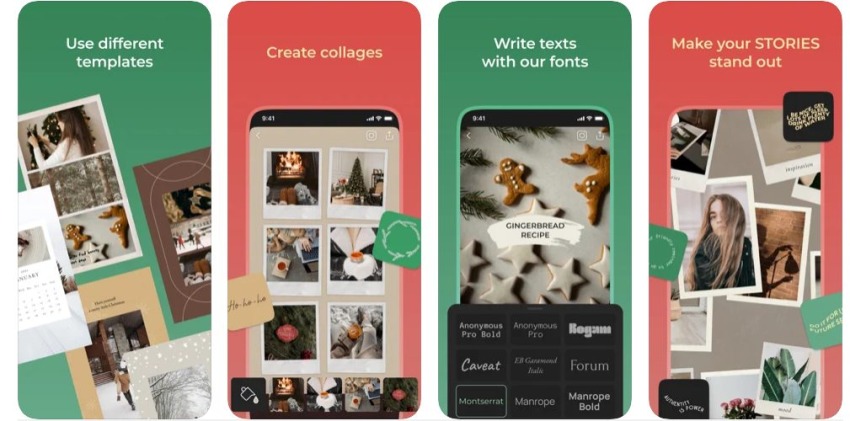 AppFroType is an intuitive photo editor and collage maker that brings together fonts, images, textures, and other important edits all in one place.
If you are looking to create beautiful collages, then this is the app for you. The app offers more than 50 predesigned templates, premade stickers, and inscription sets.
Thus, you can save a lot of time and effort using the app. Also, it allows users to create their own writings, stickers, and customize edits instantly.
---
PhotoGrid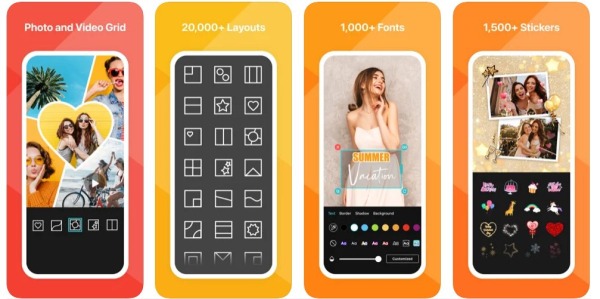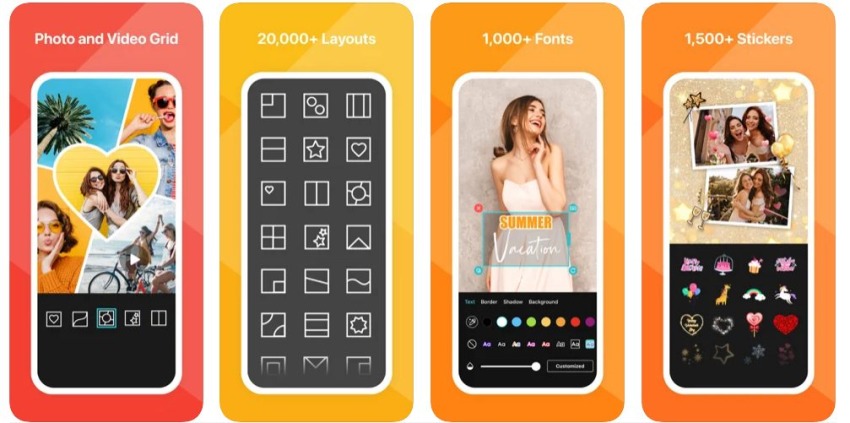 With 10000+ layouts, backgrounds, stickers, fonts, and filters, PhotoGrid is one of the best photo & video collage makers and editors in the market. The company is also very active on Instagram where you can follow them to connect and get amazing ideas for your pics. You can download it from the Apple store or you can directly download its APK file from the app's site for Android and other devices.
---
Photoleap by Lightricks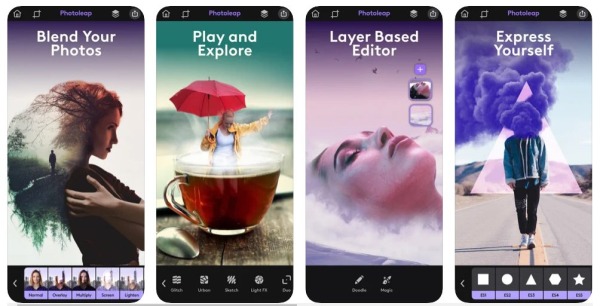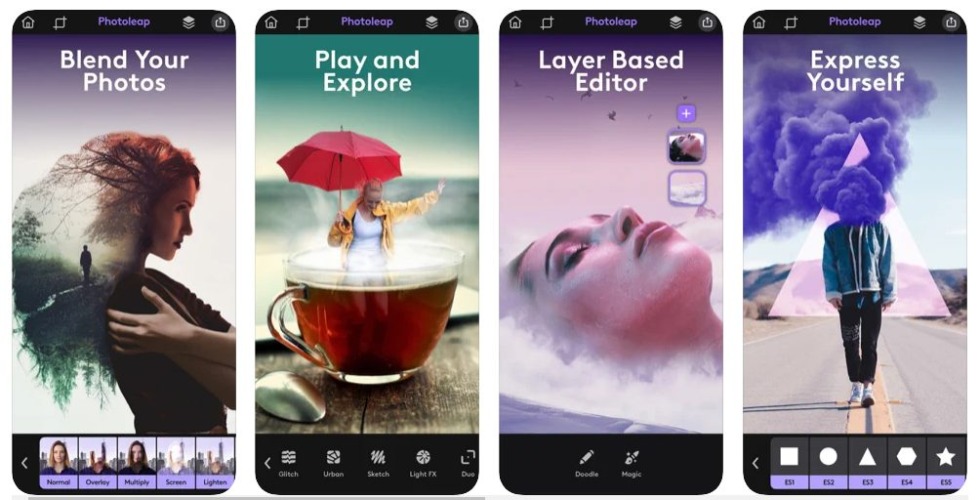 Lastly, on our list of best Instagram photo editing apps, we have Photoleap by Lightricks. If you are a creator you'll love this app as using its powerful editing options you can take your creativity to the next level.
e app offers users to control and adjust it all such as tone, brightness, color, grain, vignette, fade, and much more.
You can also use the app to add text, draw, or doodle on your photo and also do image corrections. Photoleap has built-in nearly every kind of editing tool, so we would strongly recommend you to check this one out.
Final Thoughts
This was our list of the 15 best Instagram photo editing apps. We hope that you are able to edit and create the best images for yourself. All the aforementioned apps have different specialties and the best in their category that'll make sure you get the best results you want.
We would suggest you try each of these amazing editing apps, as not only they will enhance your photos but also every app has different unique edits to offer. Most of the above-listed editing apps have a free version and most of them also have "Premium" or "Pro" versions. You can upgrade to "Premium" or "Pro" versions to unlock more new and advanced features.
Making success on Instagram demands much more than just posting high-quality photos. There are many things that come into play to succeed on the platform. If you want to succeed, you also need to share content apart from photos such as videos in the form of reels, IGTV, etc.
You also need to plan strong Instagram marketing strategies and implement them. With all this said, we're sure that editing photos will help you better your Instagram account and will help you achieve your goals. Happy Growing!