The service uses Astrocast's own recently launched nanosatellite constellation, in Low Earth Orbit, and it is bidding to support low-cost applications in asset tracking and telemetry.
Target sectors include agriculture and livestock, utilities, transport and mining – involving remote locations such as mines, farmland, ships and oil platform.
You can read more information about the Astrocast SatIoT service on the company website. Pricing isn't explicitly described.
"So far, organisations have struggled to create a business case for deploying IoT solutions that can offer comprehensive global coverage, as well as efficient and reliable connectivity," said Fabien Jordan, CEO of Astrocast.

"There is now an opportunity to use satellite IoT to increase visibility, transparency, and control over assets globally – and the potential for use cases across an array of sectors is almost limitless. What is more, in the past, these solutions have been too complex, costly, or simply unavailable. But, thanks to developments in satellite IoT technology, this is changing; and organisations that recognise the potential of going beyond terrestrial IoT will be able to create new competitive advantages too."
Possible applications for SatIoT? Jordan cites the example, in New Zealand, of the need to remotely track cattle to identify individual animals that are unwell, allowing fast intervention and removal from the herd, to both reduce the spread of disease and minimise the need for medication.
Astrocast encryption
According to the company, the nanosatellite constellation uses a patented data protocol that was developed for satellite-based IoT in partnership with Airbus, CEA/LETI, the European Space Agency, and Thuraya.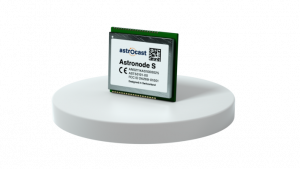 It developed Astronode S, a module featuring low profile L-band antenna, ultra-low power consumption, and a small form factor. It will use Global L-Band frequencies and incorporate 256 bit encryption with multi-level security, says the compnay.
Satellite IoT service
Early in 2001, the Astrocast network went live with the initial launch of five nanosatellites.
Since then the constellation has grown, reaching ten with the launch of five more nanosatellites satellites onboard a SpaceX Falcon 9 rocket in June 2021.
The Swiss company says it is working towards deploying a 100 satellite constellation by 2024
See also: Swarm Eval Kit for satellite IoT sensors