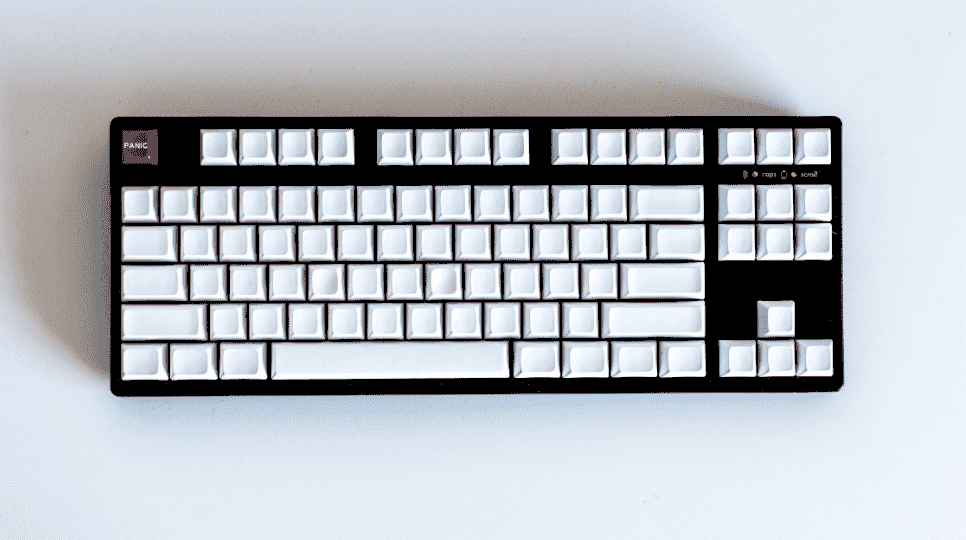 Mechanical keyboards are significantly better than standard membrane keyboard in regard to customization, ergonomics, lighting, and more. This is also the reason why they're a bit pricier than your average rubber dome keyboard.
But are they worth the money?
Absolutely!
For more information on why you should make the switch, be sure to click the link below for the ultimate list on why you should buy a mechanical keyboard:
Among other things, people love them because they're significantly more durable and provide additional feedback via switches that you won't find on your average keyboard.
But what about wireless keyboards? 
Fortunately, there are many wireless mechanical keyboards that are both affordable and incredibly convenient! Let's get into it. 
Benefits of Wireless Mechanical Keyboards
There are a number of benefits when it comes to bluetooth or wireless mechanical keyboards. For example: 
 More freedom. With nothing to tie your board down, it's easier to take your keyboard wherever it needs to go. 
Less clutter. Going wireless means your desk will look cleaner and more organized. 
Reliability. Most wireless keyboards also work with a cord. So if one connection fails, you'll have a backup solution.
Best Wireless Mechanical Keyboards by Size
Beginning with the largest first, here are the top bluetooth mechanical keyboards. 
NOTE: Be sure to read up on the product descriptions to make sure that you're choosing the best model for your specific needs.
The Velocifire VM02WS is a full sized wireless mechanical keyboard that comes with tactile Outemu brown switches. With a reliable signal that extends up to 26 feet, this bluetooth keyboard will stay connected even if you're on the other side of the room. Unplugged battery life is an extended 150+ hours when the per-key backlighting is turned off.
This model has a "double USB" feature which allows you to charge your keyboard as you clack away. It's worth mentioning that most wireless keyboards work in this fashion.
In addition, the manufacturer Velocifire stands by their 30-day guarantee so if you decide that this model isn't for you within this time, then they'll reimburse you in full. The Velocifire VM02WS is compatible with Windows and Mac operating systems.
The iKBC CD108BT is a quality bluetooth 3.0 full size keyboard. You have the option to choose from a variety of Cherry MX switches which include Cherry MX Brown, Clear, Blue, Black, Red, and Silent Red. 
This wireless model comes with anti-ghosting and full key rollover. The 4 DIP switches located on the back of the keyboard provides support for QWERTY, DOVRAK, and COLEMARK layouts in an instant. 
If you thought 3 devices was a lot, prepare yourself. This board can actually connect to a total of 4 devices at the same time! Switching between them is as easy as pie with a simple key press. 
The keycaps are OEM profile (little taller than Cherry) PBT plastic with laser-engraved printing. The IKBC CD108BT mechanical keyboard comes with 2 adjustable feet on the back which allows you to find your perfect height at one of the three different levels.
The Corsair CH-9145030-NA K63 Wireless Mechanical Gaming Keyboard (had to take a breath after reading that one) is a popular option for those loyal to Corsair. This TenKeyLess (without the number pad) model touts "ultra fast, 1ms 2.4 GHz" bluetooth which can give you an edge when reaction time is everything. 
Corsair prides itself with their bright per-key backlighting which pops through the ABS shine-through keycaps. This model features Cherry MX Red switches, macro programming, and lighting synchronization with other compatible devices. Dedicated media keys are included along with a detachable wrist rest.
The battery life ranges from 15 hours with lighting (although this appears to be a stretch looking at reviews), to unlimited if you decide to plug the keyboard in. The USB cable is part of the package. 
WARNING: The model description says "Per key dynamic multi-color RGB backlighting offers near unlimited color customization and control" but this is not accurate since you have two options when it comes to the color. There's only "Blue" and "Ice Blue" between the two models you can choose from. You can change the lighting intensity from bright to off, but that's it. 
Just a heads up. 
The Filco Majestouch Convertible 2 is a TenKeyLess wireless mechanical keyboard that comes with your choice of either Cherry MX Blue, Black, Brown, or Red switches. 
The pad-printed ABS keycaps are standard sized, meaning they're fully compatible with any keycap set. This hefty 2.16 pound wireless keyboard comes with a detachable mini-USB cable and can pair with up to 4 separate bluetooth devices. 
This model is powered by AA batteries and works with the main operating systems (Windows and Mac). 
The DREVO BladeMaster PRO is the next entry in our lineup of bluetooth mechanical keyboards. This particular 2.4 Ghz / BT 4.0 model comes with your choice of either Cherry MX or Gateron switches. Options include Cherry MX Brown, Blue, Red, Silent Red, Speed Silver, Gateron Blue, Gateron Brown, or Gateron Red. 
This DREVO's BladeMaster Pro features triple connectivity meaning that you can connect to a maximum of 3 separate devices which you can switch between with a single key combo (FN+Q/W/E). This wireless board is fully programmable with their downloadable software with options for essentials like macros, functions, multimedia controls, shortcuts, and more. 
It also has on-board memory, an adjustable height, DIP switches, and a detachable USB-C cable. The 4,000 mAH lithium battery provides a long-lasting charge that allows for 20 hours with lighting and 64 hours when the backlighting is switched off.
 The keycaps are laser-etched ABS with shine-through legends. The next-level RGB lighting ensures that you'll be able to find your zone with 16.8 million color options. This wireless keyboard also has you covered when it comes to its N-key rollover and 100% anti-ghosting features. 
Never lose a key press again!
The Akko 3084 is another wireless mechanical keyboard that comes with bluetooth 3.0 and a USB-C detachable cable with a 1,000Hz polling rate. You can choose from either Cherry MX Blue or Cherry MX Red switches. 
The 75 percent layout keeps things compact with more space for mouse movements. This type of layout is more ergonomic in nature compared to your standard full size or 100 percent keyboard since there's less "reaching" involved. A more neutral position means less fatigue and more comfort which is great for those extended desk sessions. 
The keycaps are dye-sublimated PBT which generally last longer than ABS keycap sets. The Akko 3084 bluetooth keyboard comes with 2 adjustable feet underneath the board which help you find perfect the perfect height for typing. 
In addition, this mechanical keyboard features, 6-key rollover, a rechargeable 1,800 mAh battery that can last up to 120 hours without a wired connection, and can connect with up to 3 separate devices. Switching between them is as simple as pressing FN+Tab. 
The deal also includes a dust cover, keycap puller, additional keycaps for color customization, and the product manual. 
The Keychron K2 is a top-rated wireless 75 percent mechanical keyboard that can connect with up to 3 devices. Switching between them is easy. The model comes with either Gateron Red, Brown, or Blue switches for your typing or gaming needs. 
This 3.0 bluetooth keyboard comes with a detachable USB-C cord and can last up to 24 hours with an impressive 4,000 mAh battery. The wireless mode has 6-key rollover while wired mode enables N-key rollover. 
The RGB backlighting shines brilliantly through the stock shine-through keycaps and comes with over 15 different lighting modes. The fact that this wireless mechanical keyboard has a CNC aluminum frame is the cherry on top, contributing to a premium feel.
For the Mac users out there, the Keychron K2 was designed with you in mind. It's got all the Mac function keys, ensuring minimal disruptions to your workflow. The Windows OS is also covered.  
The Akko 2068 is another bluetooth mechanical keyboard that will allow you to ditch the wires for that sweet portable convenience. It's a compact 65 percent keyboard which features the arrow keys along with a few function keys.
The stock model comes with clicky Cherry MX Blue or tactile Cherry MX Brown switches. The bluetooth 3.0 technology allows you to pair up to 3 devices. Dye-Sub PBT keycaps enhances the overall durability with water and dust resistance. 
The detachable 1.6m USB-C cable, 1ms response time, dustproof cover, and keycap puller are welcome additions. This wireless device is compatible with Windows, Mac, and Android operating systems.
The USA Majestouch MINILA Air is a wireless 65 percent keyboard. You can select from Cherry MX Brown, Red, or Blue switches. The sleek case design complements the stock black pad-printed ABS keycaps. The 5 DIP switches offer an extra degree of customizability and the 2 adjustable legs underneath the board allow you to tweak the typing angle to your liking. 
This 1.5 lb device is bluetooth only, meaning you can't connect via a USB cable. the Majestouch MINILA Air only runs on AA batteries (2 included with your order). 
No cable? No worries! The Cooler Master SK621 is a hybrid wireless keyboard (arrow keys included) that works with the included USB-C cable or without it. With the option to choose between a Black (see image above) or white model, you've got options. Both come with RGB lighting and low-profile Cherry MX Red switches. 
The cool part about the SK621 keyboard is the fact that you can customize the RGB lighting with Cooler Master's downloadable software. You can do things like change the brightness and color for specific keys and fine-tune when needed. The only limiting factor when it comes to lighting options is your creativity! 
In addition, there are multiple lighting modes that you can switch on, off, and between in an instant. Its brushed aluminum housing is an added plus and the small size allows you to take this bluetooth keyboard anywhere you go. 
The RK ROYAL KLUDGE RK61 (swear I'm not yelling at you) is a portable 60 percent wireless keyboard that comes in 3 color options. There's white with Ice-blue backlighting, black with gold backlighting, or black with red backlighting. Whatever you choose, the RK61 is sure to please with hundreds of great reviews. 
NOTE: The lighting is single color only so make sure to keep that in mind before you check-out. You can choose from either "brown" (tactile) or "blue" (clicky) switches. According to recent Q&As, these are Kailh or Outemu switches. You can ask the seller if you want to be sure.
A detachable 1.5m micro-USB cable is part of the package when you order this tried-and-true bluetooth keyboard. Additional features include an 800mAh battery (lasts 10 hours with a recharge time of ~3 hours), 17 different lighting modes, and the ability to pair with up to 3 separate devices. 
What the DIERYA lacks in name, it's performance exceeds expectations with its affordable price and great features. In loose terms, it's so compact that you could run with it in your jeans! Talk about convenience. Switch options include Gateron Blue, Black, Red, or Brown. 
What more could you want? Glad you asked! Let me tell you. 
It's so compatible that it pairs with up to 3 external devices. It's so colorful that it can change between 7 different colors. Have I told you about the 1,900 mAh battery that can last hours at a time? You could even use it from the sofa with its 10m connectivity range. 
This wireless keyboard won't disappoint, but in the off-chance that it does,  the manufacturer has your back with their 1-year warranty which may or may not cover liquid explosions. 
Get the DIERYA today!
Last but not least, there's the Anne Pro 2 which is a wireless 60% mechanical keyboard. It's a highly recommended model that comes with your choice of Gateron Brown, Red, or Blue switches. You could also choose from Kailh Box Brown, Box Red, or Box White switches depending on your preference. 
The Anne Pro 2 can connect with up to 4 different devices with Bluetooth 4.0 technology and comes with a detachable USB-C cable for when it needs to recharge. 
In addition, you can customize the built-in RGB lighting with downloadable software. The stock PBT keycaps solidify that premium typing feel and the 16 programmable macro keys allow for additional tweaks to suit your needs. 
You also can't go wrong with the Anne Pro's 100 percent anti-ghosting and N-key rollover features.  The battery life (1,900 mAh built-in Li-ion battery) is dependable and can last up between 8 hours under constant usage to 4 weeks.
If the small form factor isn't an issue, then this is a great mechanical keyboard for any occasion. 
The post Best Wireless Mechanical Keyboards in 2020 appeared first on KeyboardWhiz.
Enable registration in settings - general