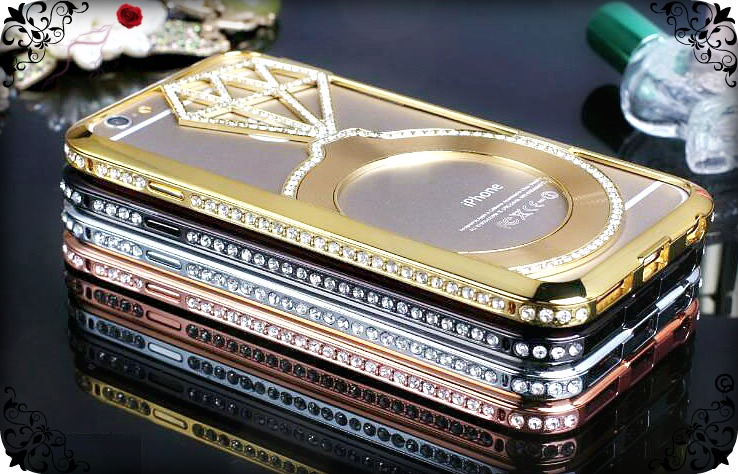 Shopping tips for buying a Bumper Case
Whichever type of bumper case you choose,
make sure it doesn't block the Phone's bottom-mounted speaker, headphone
jack, microphone, and dock-connector port; top-mounted microphone.
Bumper phone cases are made of different
materials to suite all kind of Mobile Phone users to suite all personal taste,
they come in silicone, vinyl bumper stickers, or hard plastic, wood, leather bumper hard cases, even in titanium
and other metals such as aluminium and several more materials you can think of, even Gold and crystal diamond.
| | |
| --- | --- |
| Mobile Phone Accessories – Buying Bumper Cases?  Here's The Tips | |
Mobile Phone Bumpers

A Bumper Case: – provide minimalist protection, they are
essentially a protective band that surrounds the edges of the Mobile Phone.
Even though these bumper-style cases don't provide the similar protection like
a standard case, but one thing is for sure the beauty of the Phone (if it is)
will never be covered up, but at the same time it will protect against many
drops.
 

Seidio TETRA Metal Bumper Cases. Provides that premium, right amount of Minimalist
Protection.

For SmartPhones, including Apple, Samsung, HTC,
Blackberry and more.

The TETRA™ Pro is produced for Mobile users that would
like an all around protection system but still able to show-off the beauty of
the Phone, in-fact in a way it actually improves the look and the slim profile of
the Phone.  An excellent synergy.

To stop
damage and scuffs to your phone, the tough TPU border provides advanced drop
protection with shock absorbing abilities, and in addition it also has the
scratch resistant back panel that Preventsthe phone's screen from touching
surfaces, the edges are bevelled, this provides cushioning and a lip for your
SmartPhone's corners.

With Seidio TETRA Pro Metal Bumper Case for the
Galaxy S6, In addition to a durable TPU frame, here Seidio features a
transparent back plate which keeps the beauty of the phone still exposed and
guarding the rear of the Galaxy S6 against scratches.

Strategically and Geometrically
fashioned to safeguard the corners of your SmartPhone. 
Precision CNC- superior
drop and scratch protection is provide by machined aluminium and shock
absorbent TPU (Thermoplastic polyurethane is a unique category of plastic created
when a polyaddition reaction occurs between a diisocyanate and one or more
diols).
Back panel with a Minimalist
look.
Even though Technologically
Advanced it required no tools to install.
Camera lens is protected,
as the Bumper lifts the camera away from flat surfaces.
Unique design and
light weight.
---
---
The
ZAGG Orbit designed to be slim, with flush buttons that make sliding
your SmartPhone in and out of your  pockets or bag effortless without
hindrance.  As its made of soft polyurethane and durable Polycarbonate, it hugs and fits all aspects of the edges of the Phone, so further aids protection against drops.

The protective durable Soft TPU surrounds your phone while a layer of PC helps prevent side and corner impact.


Measuring under a tenth of an inch thick and
weighing only 0.4 oz, Only Minimal bulk at most is added to your Phone when
using The Crash Guard.  Its outer matte
finish blocks scratches and in addition improves and assists hand grip.

ZAGG Bumbpers all colours for iPhone 5S

ZAGG Orbit Bumper Case Samsung S6

Guaranteed: The Orbit case is backed by a Limited
Lifetime Warranty, so if it ever gets damaged while protecting your
phone, ZAGG will replace it for the life of your phone.

While the buttons carry on being fully
accessible, in addition the oversized port opening allows most third-party
chargers and headphone jacks. And when sat-down on flat surfaces a lip lifts
the device up by 0.02″ away from grit and dust.
Mobile Phone Bumper Cases

---
Rhino Shield Crash Guard Bumper for iPhone 5/5S

For
easy access oversized port openings allows most third-party chargers
and headphone jacks.  Rhino Shield has made the buttons fully
accessible.  So while keeping your Phone safe with the black Crash Guard
you can still show off your Phone.

The Crash Guard
measures just below a tenth of an inch in thickness and weighs 0.4 oz adds only
the slightest bulk to your SmartPhone. 
The lip lifts the surface of the Phone up 0.02 inches avoiding damage
from dust, grit and scratches when placed on
flat surfaces. 

In addition its outer
matte finish does not allow scratches and further more improves grip.

 

Developed using Egg Drop technology, this slim
bumper covers the edges of your Phone with a customised polymer designed into
an internal honeycomb structure with Air-Filled Compartments that Absorb
Impacts.
---
---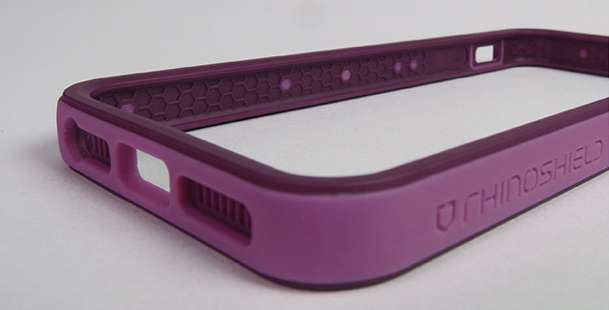 Internal Honeycomb Structure – Air-Filled Compartments Absorb Impacts
Just imagine the pressurised air acting as airbags like that of cars
but these mini airbags surrounds your phone, absorbing shock impact energy and
then redirecting it into the honeycomb instead of your expensive SmartPhone.
---
---
Verus Iron Bumper for iPhone 6

For the
dock connector and camera outlet, the Verus Case features pre-cut
openings for the ports, such as for charging, which means you're
SmartPhone can remain inside the case when using all of its features,
this gives peace of mind that your SmartPhone is protected at all times,
and simultaneously allows the phone's natural beauty to shine
uninterrupted while remaining functional, and practical.

Verus

Iron
Bumper Cases produced with both functionality and form as the main aim,
but without added extra bulk yet providing the protection your
SmartPhone needs while being very slim-lined to easily fit into and
within a pocket or a bag.

Verus Iron Bumper Case for Galaxy-S6

iPhone 6S Case, Verus [Iron Bumper][Champagne Gold/White] – [Aluminum Metal Frame][Slim Fit] For Apple iPhone 6 6S 4.7
The Verus Iron Bumper series frame looking at it
fully complements the Phone with aluminium metal frame and an anti-shock soft
core coupled with high quality thermoplastic polyurethane (TPU) – the Verus
Iron Bumper Case is the perfect companion to protect your phone  due to its dual layer protection from any
sudden drops.
Baseus Ultra Thin Aluminum-Metal Bumper Galaxy S6- Gold

Buseus have left no stones unturned that even the Volume and Power buttons are manufactured from matching aircraft aluminium.
 
As a mobile user with this bumper case you can charge the Phone while still in the case.  You can open
and close the bumper case around your SmartPhone, it's so Simple to fit in
place with the small precision aluminium clasp. 
And of course with this one the switches and ports are accessible plus
the headphone socket has been made to fit standard size auxiliaries.

Baseus
ultra thin aluminium metal bumper case – if Boeing got commissioned to
construct a bumper case this is how it would look like WHY? It's Crafted
n cut from Precision Premium Quality Aircraft Aluminium Metal.
 
At just only 1.98mm thick the aluminium is lined with brushed cotton that Protects your SmartPhone from damage if dropped, Plus in addition the Bumper case has been fabricated so that it loses no signal at all.
X-Doria Defense Gear for-Samsung Galaxy S6 – Silver

As Defense Gear is a frame case, the screen and rear of your SmartPhone is accessible, in addition to the oversized back and front lips that protect your Phone from accident drops and surface scratches.  Even the Volume and Lock buttons are protected too, as they are covered by rubber but at the same time allowing full control and functionality.


X-Doria iPhone X, iPhone Xs Case, Defense Shield – Military Grade Drop Tested, Anodized Aluminum, TPU, and Polycarbonate Protective Case for Apple iPhone X, iPhone Xs, [Red]

Defense
Gear is made of an anodized metal body, re-enforced by an Extremely
soft rubber inner liner and shock absorbing impact pads for the corners.
Rigorously Drop tested to withstand a
6.6' (2M) drops on concrete, with the strategic mix all this rubber and
metal, is scared to give you peace of mind why? Its protection you can
trust when you are out and about. 

X-Doria Defense Gear for iPhone-6 Silver

The Aux and charging  ports on the bottom are well sized to accommodate both Apple, Samsung and most third party cables.  One good thing about  Defence Gear is the one piece construction, just means it's easy to put on in seconds with no tools necessary.


OATSBASF Corner Bumper Case for iPhone X, Aluminum Metal Shock Resistant Corner Bumpers Minimalist Case
---
---