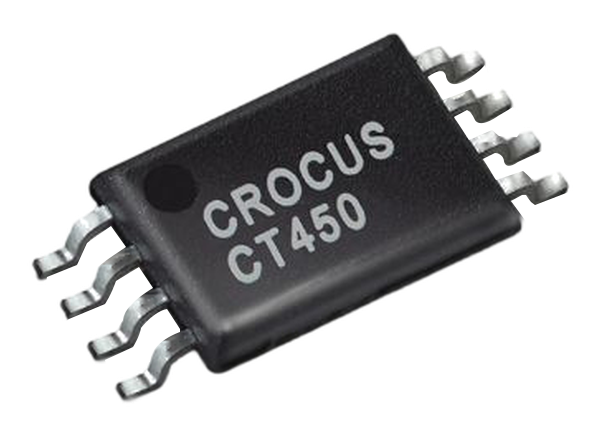 Crocus Technology CT450 XtremeSense® TMR Sensors are high bandwidth and low noise integrated contactless current sensors. The CT450 implements patented XtremeSense TMR technology to enable high accuracy current measurements for many consumer, enterprise, and industrial applications.
The Crocus CT450 XtremeSense TMR Sensors support eight field ranges where the CT450 senses and translates the magnetic field into a linear analog output voltage. The CT450 device features a total error output of less than ±1.0% over voltage and temperature.
The CT450 has less than 1.0µs output response time while the current consumption is about 5.0mA. The Sensors are equipped with over-field detection (OFD) circuitry to identify out-of-range fields. Additionally, the CT450 has a fault-bar (FLT) pin should over-field faults occur, then an active LOW digital signal will be activated by the CT450 to alert the microcontroller that a fault condition has occurred.
The CT450 is offered in a very low profile, industry-standard 8-lead TSSOP package that is "green" and RoHS compliant.
Features
Integrated Contactless Current/Field Sensing Ranges:

0mT to +8mT
-8mT to +8mT
0mT to +12mT
-12mT to +12mT
0mT to +20mT
-20mT to +20mT

Linear analog output voltage
Total error output < ±1.0%, -40°C to +125°C
1 MHz Bandwidth
Response time <1.0µs
Reference voltage output for unipolar/bipolar field measurements
VOUT – VREF < 1.0% (Typical)
Low noise performance

Detects out of range fields

8-Lead TSSOP package
more information: https://crocus-technology.com/products/ct450/