REFLVBMS001-EVK-001 consists of NGK's novel 38 × 27 x 0.45mm 27maH EnerCera EC382704P-C cell with a Rohm BD70522GUL buck converter, which has a quiescent current of 180nA and a BD71631QWZ charger-discharger-monitor – the latter can work across 2.0V to 4.7V – this cell's nominal voltage is 3.8V.  There is also a IC BD5230NVX-2C reset IC, with a standby current of 270nA.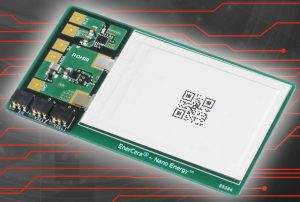 All mounted components are less than 0.6mm thick, which comes to a total thickness of 1.60mm including the PCB.
The board can be charged from 4.5 to 5.5V and can deliver up to 500mA, with a pair of jumpers setting the output voltage to a choice of 1.2, 1.5, 1.8, 2, 2.5, 2.8, 3, 3.2 or 3.3V.
The reset chip turns off the dc-dc converter when the cell drops to 3V to prevent over0-discharge.
Limited by the cell, and mediated by a thermistor, charging is available at ambients across 0 – 45°C, and the board can be discharged anywhere between -20 and +45°C.
Rohm sees the evaluation kit circuit being transplanted into smart watches, keyless entry, electronic shelf labels, smart cards, smart meters and alarms.
The kits is being stocked by Digi-Key, Mouser and Farnell.