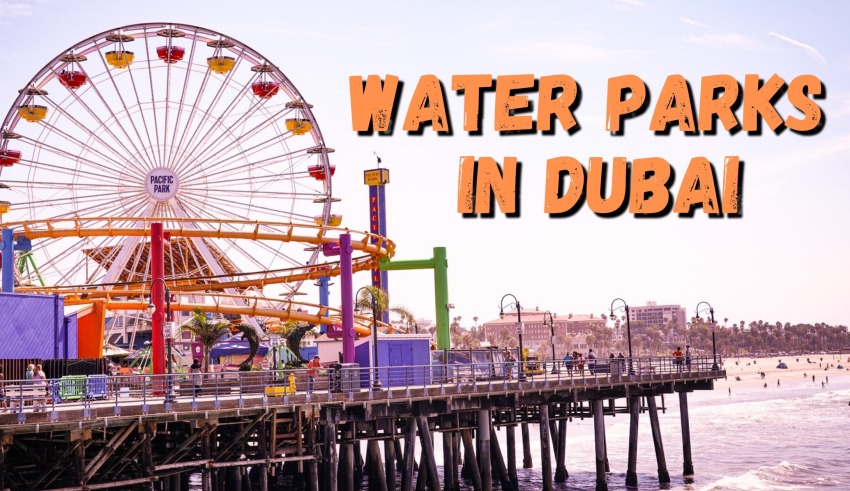 Finally, convinced your family and friends to plan a trip to Dubai? Wanna have fun and spend quality time with your family as well? Then Water and Amusement parks are just the thing you've been looking for, Water Parks in Dubai are perfect to just chill around and have a good time.
You can never have a dull moment when you're at a water parks in dubai what could possibly be more engaging than just riding down a good old water slide and making a big splash at the pool, no matter how old you get, water parks can always awaken the inner child inside you.
Amusement parks in Dubai aren't messing around either, Dubai is home to some of the best amusement parks in the world, what better way to experience different cultures than to visit amusement parks designed after different countries.
Unlike museums and exhibits, you can explore amusement parks at your own pace and there's always a little something for everyone. We have compiled a list of the best water and amusement parks in Dubai for you to check out when you visit Dubai.
Here below is the list of 10 Best Water and Amusement Parks in Dubai: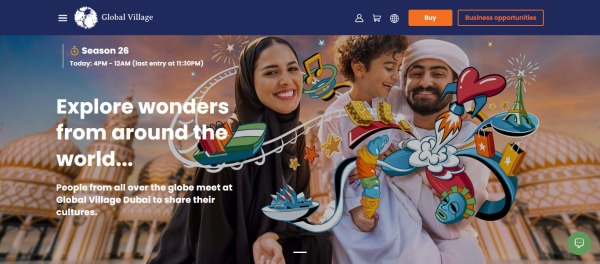 Global Village is an otherworldly experience, it is a perfect culmination of unique cultures around the world, it first opened in 1997 and since then it has continued its diverse approach to entertainment providing visitors an experience that will last them a lifetime.
It is an exemplary melting pot of cultures, it brings 80 different cultures across 26 pavilions. From artists to entertainers you can discover wonders from every corner of the world.
Global Village has a lot to offer, from dining to shopping and everything in between, Global Village has it all. You can watch live shows and events showcasing different cultures or you could go on a shopping spree and collect unique items from different countries.
Every season at Global Village brings something new and refreshing by inviting artists, performers, chefs, and business owners to Dubai and providing them a platform to showcase their culture to the world.
It puts a spotlight on cultures that you didn't even know existed before, it creates a wholesome atmosphere where you can explore different parts of the world without actually visiting them.
They also have lots of different fun activities that you can participate in to get a much closer look at different lifestyles and experience the richness of their cultures.
---

Atlantis Aquaventure Waterpark promises a unique experience unlike anything that you've experienced before with its breathtaking 500m private beach and its record-breaking waterslides, Atlantis Aquaventure has it all.
It features Middle East's tallest vertical body slide and the region's first cliff jumping experience, it also has the world's tallest water slide and the world's longest family water coaster as well.
If record-breaking water slides aren't enough to get you onboard then Atlantis Aquaventure also has a lot more to offer, watch water shows with dolphins, sea lions, sharks and stingrays.
The world-class aquarium that offers you a chance to get a closer look at these exotic animals and don't worry they are ethically trained and maintained by professionals who also happen to be animal lovers.
There are also family pools where you can just chill out and get away from all the noise and just splash around in the water.
You can also enjoy world-class food at Atlantis Aquaventure which also happens to host famous celebrity chefs' restaurants.
Enjoy the best brunches that Dubai has to offer with unique signature dishes that you won't find elsewhere, want an even more exotic experience then you can always stay a little late and check out the hottest bars and the vibrant nightlife.
---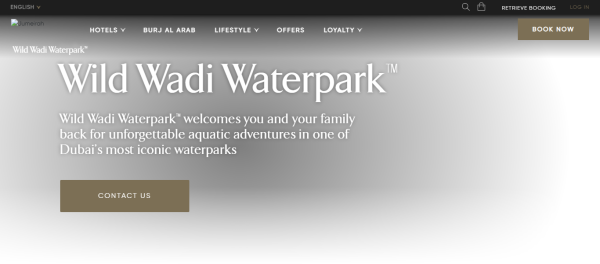 Wild Wadi Waterpark is situated right outside the gorgeous Burj Al Arab, Wild Wadi is themed around Juha, a well-known figure in Arabic folklore, it offers over 30 different rides and attractions for tourists.
This is a unique fusion of a theme park and a water park and offers twice the fun with its unique rides, whether you're with your family or your friends you are guaranteed a good time.
 Water and Amusement Parks in Dubai believes in inclusive and goes above and beyond to ensure that their park is available and accessible to all, they provide a 50% discount to people with any kind of disabilities so that nobody is left out on the fun.
It is the perfect place for people who are visiting with their families, kids can enjoy all the thrilling rides while the parents can just sit down and have a drink while watching over their kids.
From exhilarating rides to relaxing pools, Wild Wadi has every kind of aquatic experience that you can wish for.
You can get complimentary access to the park if you're staying at any of the partnered hotels including Burj Al Arab, you can even have a meal at the park which serves smoothies, burgers, hotdogs, salads, or anything you'd expect to eat at a poolside.
---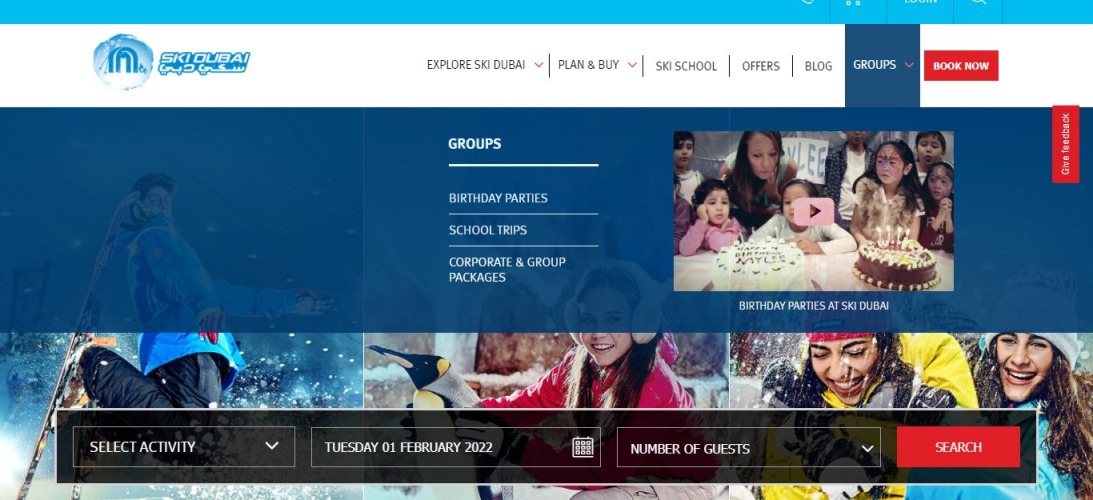 Ski Dubai is one of the most visited places in Dubai and is one of the best family-friendly tourist destinations in all of the Middle East, having won the best indoor ski resorts consecutively from 2016-2017 Ski Dubai definitely deserves the hype.
If you're just a beginner at skiing and don't have any prior experience in the snow, you can get an instructor to help you out, Ski Dubai has an excellent team of experienced instructors who are deployed in the snow to assist you in any way they can.
If you are an experienced skier then you move along and attempt to jump over the 10ft ramp and get an aerial view of the snow park. you can also try their Monster Thriller ride which carries you 150m at speeds upto 24/mph.
You can also meet the one of the most beloved birds in the world- the penguins, native to the polar regions of the planet, penguins aren't the type of wildlife that you'd expect to see in the Middle East but at Ski Dubai. it's possible to get a picture with a penguin and that's an experience that you'll remember for the rest of your life.
Prepare your heart as you might overdose from all the cuteness these amazing birds radiate as they paddle around in the snow with their tiny little feet.
---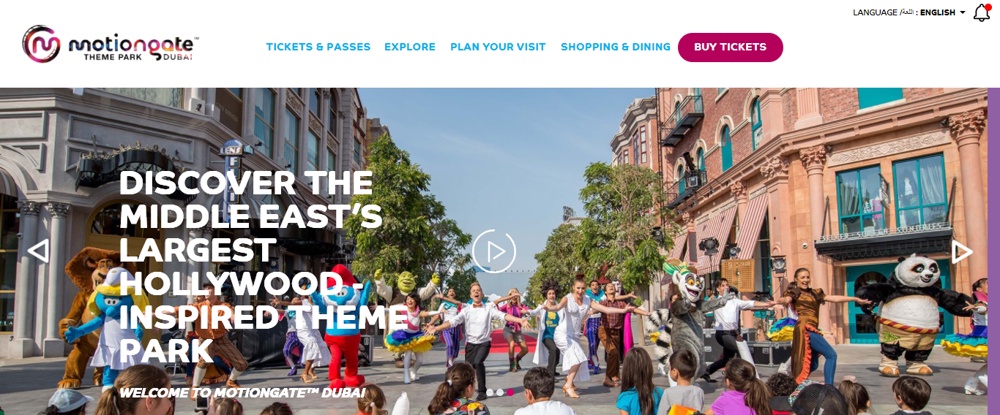 Motiongate Dubai is the perfect place for movie geeks and little kids, it is the biggest Hollywood-inspired theme park in all of the Middle East and it features rides inspired by beloved movie characters and films. It has rides themed around the Hunger Games, Madagascar, Kung Fu Panda, John Wick.
It is a must-visit place for those who love adrenaline-inducing rides and now combine them with Hollywood, you can only imagine how exciting it would be to visit this amusement park. At Motiongate Dubai you're spoiled for choices as there are 5 different zones themed after different Hollywood movies just waiting to be explored.
This place is perfect for little kids as it's designed and optimized so that the little.Ones can have as much fun as they want and it also could be a nostalgic trip down the memory lane for those who grew up with iconic animated characters like Po the Panda from Kung Fu Panda and many more.
You can also buy exclusive merchandise at Motiongate Dubai that you can bring home as souvenirs to commemorate your trip, or could just be gifted to your friends and well-wishers, whether you're a 5-year-old kid or a full-grown adult, you are guaranteed to come across iconic characters from your childhood.
---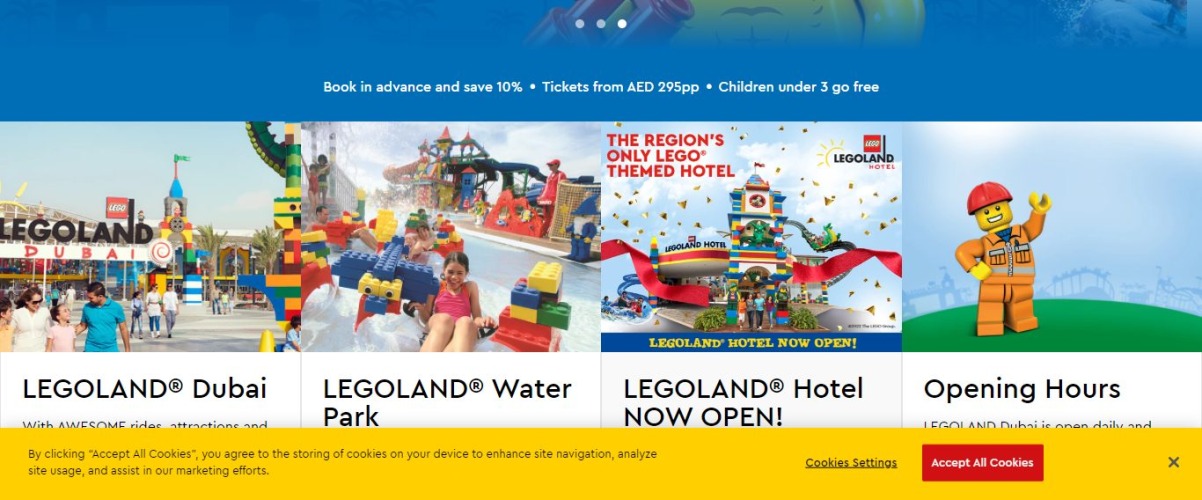 LEGOLAND Dubai as you can guess is a lego themed amusement park that also features a lego themed waterpark for children between the ages of 2-12. It also has the Middle East's only lego themed hotel, if you wanna do something special for your kids and give them an experience that they'll cherish for the rest of their lives, just bring them to LEGOLAND Dubai.
Kids love legos and what place could possibly be as exciting as LEGOLAND, with lego themed rides and a lego themed waterpark it is the perfect place to let your kids run wild, you can grab a bucket of popcorn and stroll down the park as you explore all the attractions LEGOLAND has to offer.
You don't have to worry about your kids at all as the rides are frequently tested for faults and the park ensures that all the rides measure upto all the safety and health regulations.The park also employs a handful of lifeguards at the waterpark who make sure that the kids are safe both on the slides and the pool.
It features over 40 different interactive rides for children to enjoy and when the kids get tired from running around all day, you can get them a kids meal at the restaurants that are also themed after legos.
---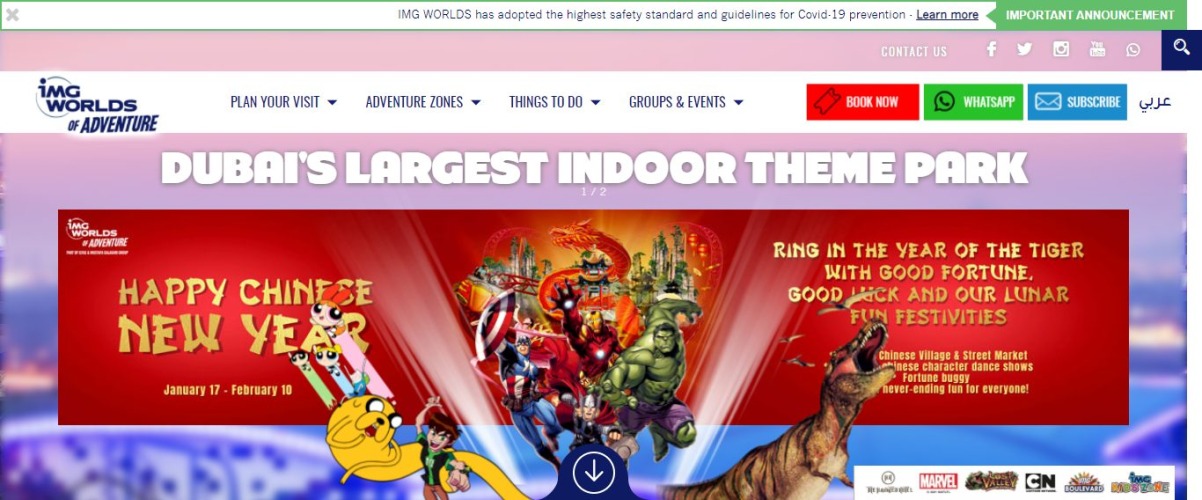 IMG Worlds of Adventure is an amusement park themed around Disney, Marvel, and Cartoon Network franchises. Water Parks in Dubai is the region's first mega-themed amusement park and hosts a staggering amount of people every day, its capacity is estimated to be around 20,000.
It has lots of rides featuring beloved cartoons such as Iron Man, Spiderman, Ben 10, Powerpuff Girls, Adventure Time and lots more. Water and Amusement Parks in Dubai is also home to retail stores that sell extremely exclusive merchandise that you'd have trouble finding on eBay.
It also has a lot of dining venues that are also themed around cartoon characters. Additionally, it also has a 12 screen state-of-the-art cinema theatre which is also the region's first.
It is a must-visit for newcomers who want to experience everything that's exciting about Dubai. It perfectly captures the complete image of Dubai as a leisure city. People visit Dubai for a good time and IMG Worlds Of Adventure definitely leaves people satisfied and smiling.
It is a huge nostalgia dose for people who grew up during the 90s or early 2000s. This place is packed with iconic characters that everyone looked up to and visiting this place is sure to trigger some of those sweet childhood memories.
---

Laguna Waterpark is located in the picturesque La Mer which overlooks the gorgeous beach, Laguna Waterpark has 4 main zones each of which are dedicated to Surf, Relax, Slide, and Splash.
Laguna Waterpark claims itself to be a paradise where you can do pretty much anything that your heart desires, you have complete access to a pool lounge, lazy river, La Mer northern beach and a kids zone.
If you want to just lay down and chill out you're totally good for it at Laguna Waterpark, it has 5 main water rides, two of which are completely new to the Middle East.
Located in the middle of the most beautiful part of Dubai means that it is the perfect place for Instagram pictures not that a single place in Dubai isn't but this one is special as it is naturally very picturesque.  You won't even need a filter to bring out the colors, it is literally impossible to click a bad picture in this part of Dubai.
Since you have complete access to the beachfront, you can just take a stroll down the beach with a beverage in your hand and absorb the scenery in your memory.
---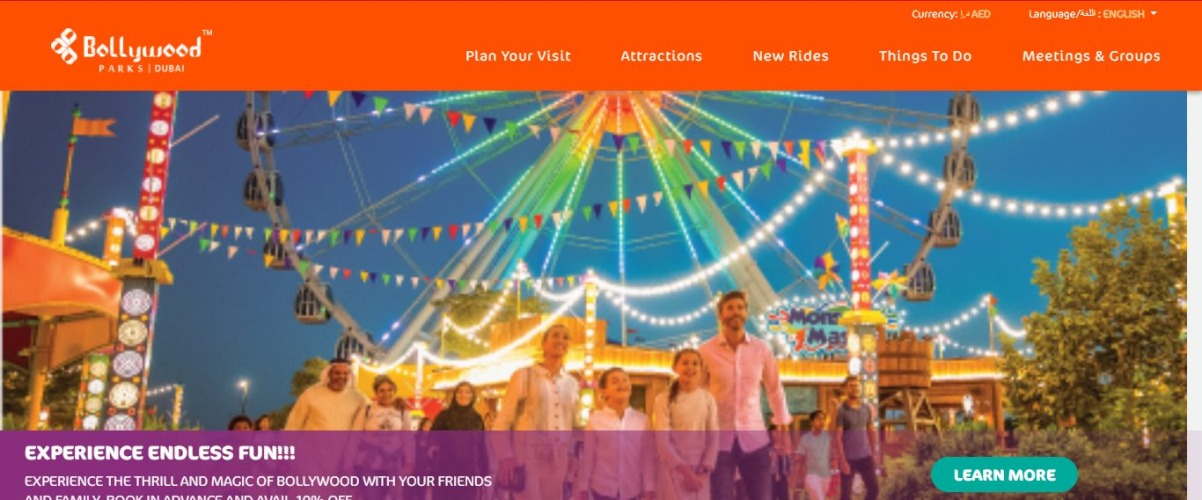 Bollywood Parks Dubai is a amusement park that is themed around Bollywood and mumbai, immerse yourself in the vibrant and colorful bombay culture.
The theme park ensures that you get an authentic Indian experience as soon as you enter the park. Its many exciting rides that feature and reference many critically acclaimed movies that even moved the hearts of an international audience.
Dubai and its love for Bollywood go a long way back and this attraction is a testimony to that love, you might not know this but Bollywood movies are rather popular among Arabic people and have managed to capture their hearts. Rajmahal theatre is at the center of the park and the theatre is modeled after Indian-style Castles that are often seen in Bollywood movies.
Get a taste of the Indian cuisine in the replica of the famous Victoria Terminus, fine dining isn't the only thing you'll find here, you can grab yourself some street food from the stalls that surround the entire park. You can completely zone out and immerse yourself in your very own bollywood adventure.
This place is perfect for people who are tired of looking at the same types of parks over and over again and want to experience something new, what better way to explore a part of the world than to completely surround yourself with its rich culture.
---
Aqua Fun is one of the most visited waterparks in Dubai, it is visited by people from 120 different countries and it's pretty obvious as to why this place is visited so much. It is the World's largest inflatable park making this a favorite among tourists and even locals.
The park is open seven days a week till sunset and the park entrance pass lasts you the entire day meaning that you come early in the morning, play around. Once you get tired you can just leave for a brunch, shopping, or explore the city after that you can return back to the park and resume all the fun that you were having.
There is no shortage of choice at Aqua Fun, you can get anything to eat and drink. It has some of the best coastal food and combine that with an icy cold beverage to contrast the flavors of the coastal cuisine and seafood.
It has some of the most engaging obstacle courses in the world, you can challenge your friends to a friendly competition. Aqua Fun is good a place as any to enjoy the breathtaking beaches of Dubai and create lifelong memories.
---
Conclusion
Planning a trip can be stressful especially a trip to Dubai, there is a lot to see in Dubai but rarely enough time to actually do it.
Amusement and waterparks are almost too good to be true, you get to experience everything a place has to offer without wandering around all day long.
Waterparks in Dubai are some of the world's finest where you will walk away with the experience of a lifetime, paired with the world-class amusement parks it creates a magical atmosphere that awakens the inner child inside of you.
Dubai has the best of everything the world has to offer and same can be said for its water and amusement parks, anytime you're confused you can always visit any of the attractions mentioned above and have a great experience.