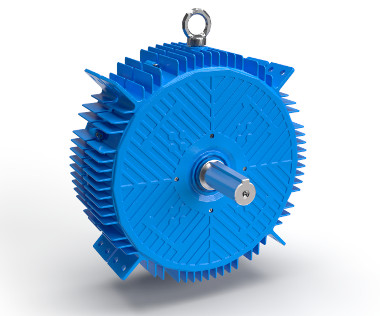 Announced at the AHR Expo building automation exhibition in Las Vegas this week, 'Turntide for Strategic Machines' integrates the company's recent pancake-style 'TX' motor, its controller and app.
The motor is IoT-enabled for automated commissioning, remote monitoring, fault detection and to make money, according to Turntide: "Real-time data streams from the connected motor offer insights into equipment performance and present opportunities for after-market recurring revenue streams, such as equipment-as-a-service subscriptions and condition-based service contracts".
The rare-earth-free 5.2kW three-phase motors measure 157mm front to back (plus a 100mm shaft) and are 382mm in diameter. Working range is 200 to 1,800rpm with efficiency peaking at 93.2%. Weight is 43.5kg. There are two versions: 460V 60Hz and 400V 50Hz, or 208/230V 60Hz and 200/240V 50Hz.
The associated 'P05' controller adds 4.8kg to the weight and is ~400 x 200 x 150mm.
As well as running the motor control algorithm, for monitoring and control the P05 has seven programmable digital inputs, a programmable 0-10V output, four relay outputs (125Vac max) and four analogue inputs that can be set to 0-10V, 0-20mA, 4-20mA, resistive-sensing or logic mode.
In addition, "our edge devices allow bringing motor data into the cloud, and our cloud application layer provides end-users information about motor status and operations, can notify users of out of specification conditions, and benchmark and report on energy use for measurement and verification of motor energy efficiency," the company told Electronics Weekly.
Potential applications include driving axial fans in data centres and, at AHR Expo, the company also announced a development partnership with air handling company XNRGY Climate Systems for fan arrays for data centres, as well as healthcare facilities, semiconductor clean rooms and factories.