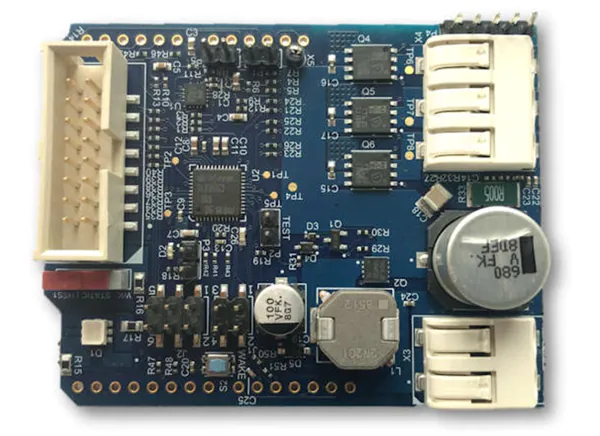 Infineon Technologies MOTIX™ BLDC TLE956X Motor Control Shield (BLDCSHIELDTLE956XTOBO1) is a demonstration and development platform for the TLE9563-3QX Motor Control System IC. The TLE9563-3QX is a multifunctional system IC with an integrated power supply, communication interfaces, multiple half-bridges, and additional support features. The device is designed for various motor control automotive applications. To support these applications, the TLE9563-3QX provides the main functions, such as a 5V low-dropout voltage regulator, one HS-CAN transceiver supporting CAN FD, and CAN Partial Networking. The device also integrates three half-bridges for BDLC motor control, one current sense amplifier, and one 32-bit serial peripheral interface (SPI).
The Infineon Technologies MOTIX BLDC TLE956X Motor Control Shield features a pre-installed TLE9563-3QX in a PG-VQFN-48 package. The Motor Control Shield also features an onboard Back-EMF detection circuit and a connector for a HALL sensor.
The TLE956X Motor Control Shield is designed to be controlled by the ConfigWizard GUI (Graphics User Interface) via the µIO-Stick Interface Device (not included). In addition, the Motor Control Shield features an Arduino-compatible interface, enabling it to be used with an Arduino UNO Microcontroller Board.
Features
TLE9563-3QX Motor Control System IC

Operating voltage range 5.5V to 28V with 5V compatible logic input
Integrated reverse polarity protection with onboard EMC filter
Three integrated half-bridges MOSFETs
5mΩ low-side current sense

High-Power RGB led driven by integrated High-Side switches
Onboard Back-EMF detection circuit
Connector for HALL-sensor
Three onboard N-channel MOSFETs
BEMF comparator
Connector for µIO-Stick Interface Device
Arduino example codes are available
Board Layout
Resources