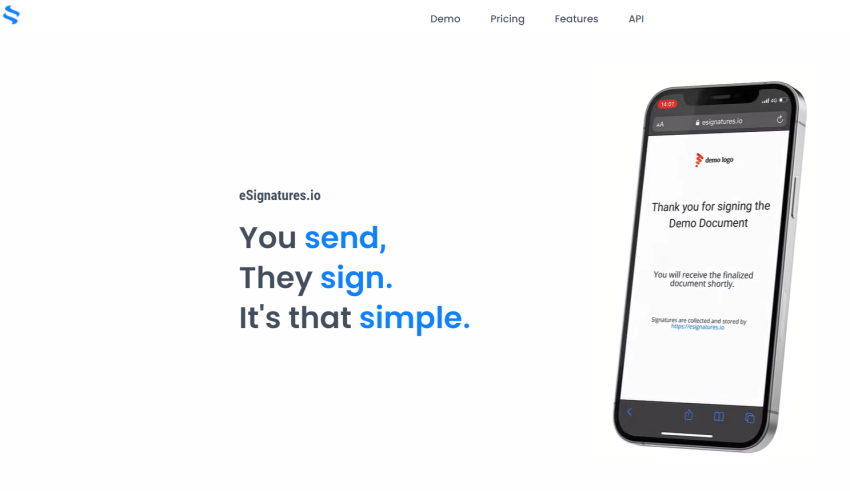 Everything has become digitalized as we are steadily moving into the digital era. The COVID-19 pandemic pushed the world into lockdown, and the virtual world became the only place to roam. From the basic needs such as buying and delivering food to payments and now even a whole new virtual world has become a reality.
The concept of virtual contracts and agreements is now coming into existence. However, we also need to authenticate our consensuses for this to work.
In offline interactions, people sign the document physically on paper with a pen to show their accordance. Nowadays there are several service providers who will help you sign contracts online with legally binding electronic signatures. They also support you in the whole process, for example with securely sending and storing the signed contracts.
Not all electronic signature platforms are the same. eSignatures.io is one of these service providers with an innovative approach and a couple of features that makes them unique and different from their competitors.
Now, you may think, what features does this software have that make it unique? So now, to justify this question, let us have a look at some of the core features of eSignatures.io.
Features
Simple, fast, and works perfectly
Be it any contract, this software is highly reliable. It is extremely fast and super easy to use. When working it in sync, all of these attributes make it work perfectly well.
Provide real mobile-friendly esignatures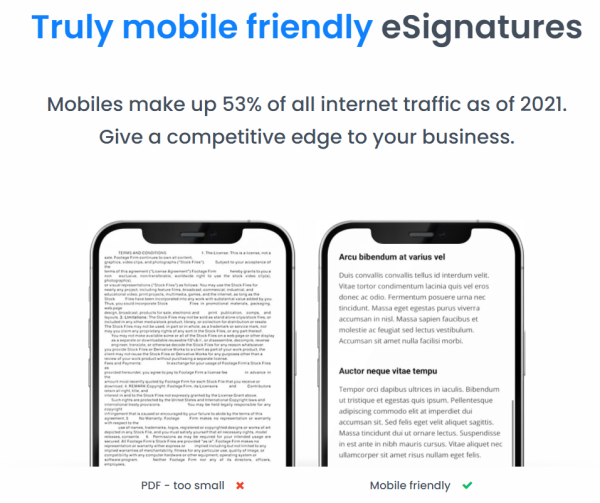 This is the most crucial differentiator of all the features. In the current market, whatever software is available still does not have effective mobile-friendly signature systems and is pretty tedious to use.
Nowadays, people manage more and more things on their mobile devices, on the go (working, buying things, etc…). Customers expect businesses to have mobile-friendly websites, webshops, etc… In 2022 it's a must-have.
Most of the competitors use PDF files in the signing process. Instead of that, eSignatures.io has developed its own text-based contract template editor. Contracts sent using eSignatures.io are thus responsive like a webpage. The text arrangement and font size are indeed optimum for signers on whatever device. It's used in conjunction with "single-click" signing. That's how it gives the signers a fully mobile-friendly experience.
It's a significant distinction from the competition since, while you can access PDF-based contracts on smartphones, they're difficult to read and sign due to the need for a lot of zooming, etc. In practice, PDF-based contracts can only be signed on desktop computers or laptops.
Ideal for template-based operation
This also is incorporated from the text-based software approach that is mentioned above. The solution is designed to focus on easy reuse and resend agreements for many signers.
They provide intelligent traits to quickly edit not just pre-set conditions (like prices) but any word can be changed easily in the contract before sending and collecting information from the signers. Also, the final contract will show your brand logo and always look professional and tailor-made, unlike the competitors, which show "stamps" in PDF for the signers.
The company assures you its top-notch quality not just by claiming but also provides you with a free trial. You can fully understand and interpret your requirements and the software efficiency according to your need, and this will also ensure that you are spending your bucks worthy.
You may sign up for a free account and test out the entire service in demo mode for as long as you like. In demo mode, there is a stamp "DEMO" on signed contracts to signify that they are just being used for testing purposes. If you want the service, you may add money to your account at any moment and start issuing actual contracts for $0.49.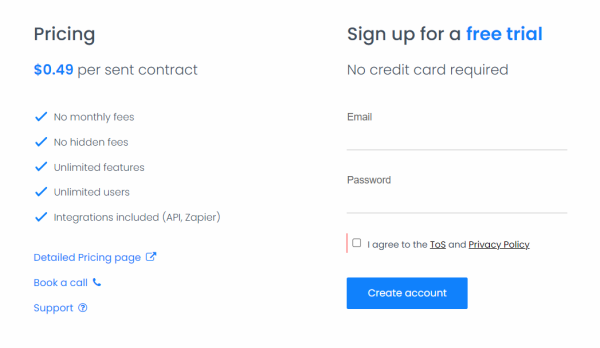 Pricing on a pay-as-you-go basis
There are no lock-in subscription charges or any such on a timely basis. You can pay for the services whenever you avail of them without any bound restrictions. This will save the unused monetary resources which may have been utilized in a periodic subscription manner. You pay $0.49 per sent contract, it's that simple.
All features in the price, no monthly fees, no hidden fees
There is complete transparency and honesty when it comes to the pricing of this product. No tricks are played, or any further concealed charges are taken upon availing of the service.
Integration possibilities and intuitive API
Integrating with an online signature platform has never been easier. A contract is sent with a single POST request. This effectively saves your time and resources both
The API is simple yet flexible, and it allows embedded signing, eSignatures.io also supports no-code integrations like Zapier and Integromat, which is important.
Privacy Policy and Security
When it comes to privacy, you can relax when taking this service. They do not sell or trade any of your personal information. Also, neither do they spam by sending marketing emails to your customers.
With the ISO 27001 certification, they have the highest level of security on global information assurance. Also, they provide two-factor authentification for better protection.
There are many other special features such as:
You can easily choose your own data center to store your contact information.
Can communicate in 22 available languages.
Efficient signing contracts via SMS or QR is the first in the field feature.
Create unique processes and link apps without coding, including your favorite CRM and cloud storage services using Integromat.
You can easily track all the contracts and also inforce bulk sending of agreements.
There are specific signer fields dedicated to better readability and access.
Personal Thoughts
This software is one of a kind service that provides you with a wholesome and satisfactory experience. You can easily construct, send, and sign all the required contracts with a single click, ensuring time-saving. It truly makes the mark-up for the industry-level tech with its exceptional features. It has an excellent user-friendly interface, making the process smoother and faster.
Pros/Cons
All the features mentioned above make up to the Pros of this product. However, some of the basic cons are the lack of the option between subscription and pay-as-you-go pricing. Some people may be regular users and may consider subscription pricing more profitable than the proposed one.
Pricing
As stated above, the pricing is based on pay-as-you-go terms with the price of $0.49 per sent contract.
Conclusion
This software certainly lives up to its expectations and serves its best when it comes to signing agreements. It has also been featured in significant articles such as Investopedia, Zapier, etc., proving its worthiness.
If you are out in the market for a good esignature solution I highly recommend trying eSignatures.io with your own "use case", and I am sure you won't regret it!