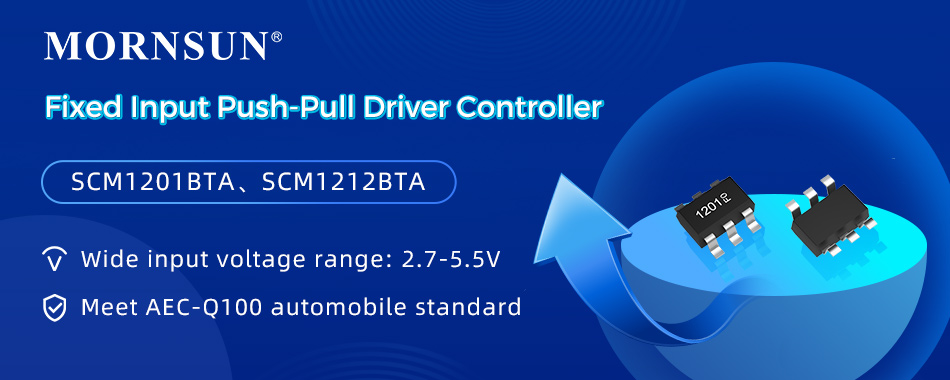 MORNSUN has introduced two new drivers SCM1201BTA and SCM1212BTA that feature integrated MOSFETs for the primary side of a push-pull power and can be used in the 1-2W applications with 3.3V and 5V inputs. These new series with wide input voltage range of 2.7-5.5V will not be damaged even under the high input voltage up to 9V within 1s.
These devices contain, two drive systems and two power MOSFETs that are highly symmetrical and reduce the degree of magnetic bias in the push-pull topology. Moreover, these drivers are integrated with three key technologies to improve reliability meet the AEC-Q100 automobile standard to ensure reliability.
Key Features
Push-Pull driver controller
2.7-5.5V wide input voltage
Low conduction resistance 200mΩ
Two built-in power MOSFETs with high symmetry, quasi-complementary driver
Limited MOSFET's current while turning on the power
Over current protection and short circuit protection
Over temperature protection
Under voltage protection
Increase the dead time under light load
Meet AEC-Q100 automobile standard
Application Diagram
These devices can be widely used in isolated power supply, industrial process control, isolated communication power supply, medical device, telecommunication equipment, etc.
more information: https://www.mornsun-power.com/html/news-detail/product-news/424.html