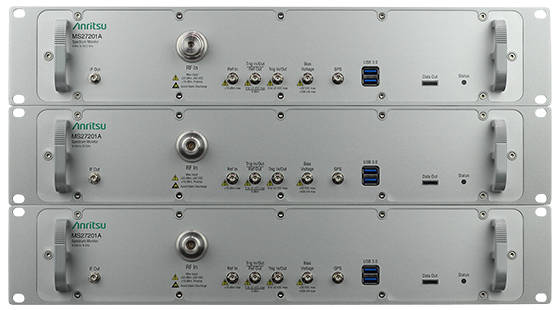 Anritsu has created the MS27201A remote spectrum monitor series, that includes a 43.5GHz version for new satellite downlink bands.
A 110MHz measurement bandwidth supports common satellite downlink spans, DANL (displayed average noise level) is -164dBm and the typical TOI (third-order intercept point) is +20dBm.
Other MS27201A versions work up to 9GHz or 20GHz. All work down to 9kHz.
"Combining RF performance with supporting PC software, the MS27201A series delivers a package for long-term monitoring in a variety of commercial and regulatory environments," according to the company.
The PC user interface is the same as for the company's spectrum analysers and allows someone to control multiple instruments and view current spectrum from a single location. Or the remote spectrum monitors can interface with MX280001A Vision software. "Common trace capture and data storage applications are included in Vision software, eliminating the need for users to develop custom software," said Anritsu.
A capture feature allows off-line post-processing of signals, and LTE and 5G demodulation software is available as an option, as is VSA software that allows modulation quality measurements to be made on narrowband signals.
They are 2U tall for 19in rack mounting and come with a 15W power block. Operation resumes automatically after a power interruption.
Use is expected in spectrum clearing, shared spectrum monitoring, satellite ground station monitoring, critical site security, interference monitoring and regulation enforcement.
Image: three instruments stacked.