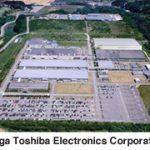 The new production is scheduled to start in  March 2025.
The new PMIC fab will be at Kaga Toshiba Electronics (pictured) a semiconductor  subsidiary in Ishikawa Prefecture. 
The fab will make PMICs on 300mm wafers.
As well as the new fab, a 300mm PMIC production line will be installed inside the existing buildings at Kaga Toshiba.
That line is expected to begin production between October 22 and March 23.
Toshiba is estimated to have a 6% market share in PMICs.